James Norton first played Tommy Lee Royce in Happy Valley in his 20s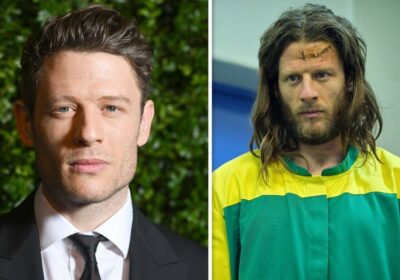 Happy Valley: James Norton discusses 'rollercoaster' series finale
We use your sign-up to provide content in ways you've consented to and to improve our understanding of you. This may include adverts from us and 3rd parties based on our understanding. You can unsubscribe at any time. More info
Happy Valley is going to be coming to an end next week with the finale playing out. The show saw the cast return to their roles one last time in the BAFTA-winning BBC drama series. James Norton again donned the mantle of violent rapist and criminal Tommy Lee Royce, the breakout role which launched his career.
How old is James Norton?
Audiences have a renewed interest in Norton since he appeared in Happy Valley season three after first taking on the role when he would have been in his late 20s.
Norton was born on July 18, 1985 in London which makes him 37-years-old.
The actor grew up in Ryedale, North Yorkshire and attended boarding school, where he was bullied.
He previously said about his ordeal as a child: "My school years were complicated. I didn't have the greatest time."
Norton went on to say: "I was quite badly bullied for five years and I was at boarding school so I couldn't leave.
"I've had a great therapist for the last four years, and it's not from a place of drama."
He said about the experience: "We're the only country that still sends our kids away voluntarily.
"You're stuck with these people, and all these young kids are just deeply, deeply homesick and they're just lost."
Adding on the Comfort Eating with Grace Dent podcast: "For some of them, that pain manifests itself in being needy or rebellious."
After boarding school, he went on to study theology at Cambridge University getting a first.
Afterwards, Norton studied at the prestigious Royal Academy of Dramatic Art, but finished six months before the end of his course to take on an acting job.
Some of Norton's early roles include small parts in An Education, Kapital, Inspector George Gently and even Doctor Who.
Further roles included parts in Rush, Belle, Death Comes to Pemberley and Mr Turner.
But it was Tommy in Happy Valley, which pushed him into the limelight and led to parts in Life in Squares, Lady Chatterley's Lover, War and Peace and McMafia.
Additionally, he also played the lead in Grantchester Sydney Chambers before leaving for other projects.
Since Grantchester he has gone on to star in The Trial of Christine Keeler, Unprecedented, Little Women, Nowhere Special, Rogue Agent and The Nevers.
According to IMDb, he will be appearing in Men of Divorce, which is post-production and lends his voice to Heart of Darkness, which is in pre-production.
Norton has previously also spoken about facing his mortality after working on the film Nowhere Special, playing a terminally ill father who has to say goodbye to his young son.
The actor told BBC News: "Being forced to contemplate one's death in a very simple way is something I think we run away from most of the time, rather than sit down and meditate on what's going to happen when you die."
He added: "It was really cathartic for me to share a little bit of John's journey."
Happy Valley season 3 airs on BBC One on Sundays at 9pm
Source: Read Full Article