Jacqueline Jossa's EastEnders' soap return is 'make or break'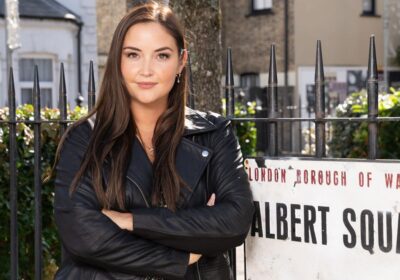 Jacqueline Jossa 's announcement that she's returning to EastEnders has delighted soap fans, but a source believes her surprise comeback is a "make or break" move that could put unwanted strain on her and Dan Osborne's six-year marriage.
Last week, the 30-year-old actress revealed she's heading back to Albert Square later this year to reprise her role as Lauren Branning – five years after her dramatic departure.
And now a source has told OK! that while former TOWIE star Dan, 32, is "over the moon" at his wife's soap return, the pressure of playing feisty Lauren could put pressure on the couple and their cosy family dynamic.
"Since Jac left EastEnders, she and Dan have lived in their own bubble and have been able to spend lots of time together with their children," the source said. "Her return to the show could make or break this situation, with her working many more hours.
"Jac feels it's the right time to go back to work, but like any working mother, she knows it'll be tough. They are a strong couple and although they've had their ups and downs, they've always come out the other side and stick together no matter what."
The mum-of-two's big announcement came just days after she set tongues wagging with a cryptic quote on her social media that read, "Anyone who doesn't value what you bring to the table doesn't deserve you."
Adding fuel to the fire, hubby Dan then shared a similarly mysterious post moments later that read, "Why is life testing me so hard lately? I mean, I'll survive but damn give me a break."
Our source claimed, "Dan knows the moment she's back on TV she'll start being invited out to events alone and it puts her back out there, separate from him.
"She'll be back out in the spotlight, going to events and being in demand, and Dan's got to be able to handle that."
Jacqueline and Dan – who wed in a star-studded ceremony at the stunning Delamere Manor in 2017 two years after the birth of their first daughter, Ella – have already overcome several hurdles in their marriage.
In 2018, they briefly separated amid rumours Dan had cheated with former Love Island star Gabby Allen, 31. And just last year Jac was left in tears after Dan was arrested on suspicion of GBH following a brawl at her 30th birthday party. He faced no further action.
While our source said the couple, who are also parents to five-year-old Mia, are now the strongest they've ever been, we're told Jacqueline's return to EastEnders and its gruelling filming schedule could alter the dynamic at home.
"I think they've done really well coming back from the scandals and building a family brand, and they're a lot stronger now," the source said. "They've been in a bit of a bubble recently. When they've been doing their In The Style campaigns, it's just them – they're not really out in public as it's all done on social media.
"But when you're acting and having to attend events – and EastEnders will want her to do all that because she's got such a high profile – you're not in that bubble any more."
Despite winning I'm A Celebrity… Get Me Out Of Here! in 2019, Jacqueline hasn't had any major TV roles since leaving the BBC soap. But she opened her own acting academy in 2019 and has a successful fashion line with In The Style.
Even though there's been talk of the couple renewing their wedding vows, the actress has been forced to defend her marriage on a number of occasions. Just last month she was questioned about why she wasn't wearing her wedding ring.
Brushing off any suggestion of a rift, she told a newspaper, "We just never wear them," adding that her changing body shape meant it wasn't always comfortable.
And in a move suggesting he wanted to quash rumours he's anything other than thrilled about his wife's return to Walford, Dan reposted her EastEnders comeback announcement, captioning it with a simple, "She's back!"
As well as the brighter spotlight that will come from being back on the BBC soap, Jac and Dan will inevitably have the darker side of social media to contend with – something our source claims has been a trigger of strife for them in the past.
"It takes forever to build trust back, and when the trust is broken, it changes things," our source said. "The trouble with social media is people send messages all the time about your other half. It can be completely untrue, but it puts that seed of doubt in your mind."
Spending the past few years focusing on family life has given Jac and Dan the space and time to reach the good place they are in today, our source explained.
"Jac will be thrown back out into a soap and that opens her up to public opinion and speculation," they pointed out. "But they've been enjoying a really strong relationship together and they want that to continue."
Source: Read Full Article