I'm chief steward on Below Deck & the demands billionaire guests make are ridiculous – the drama is far worse off camera | The Sun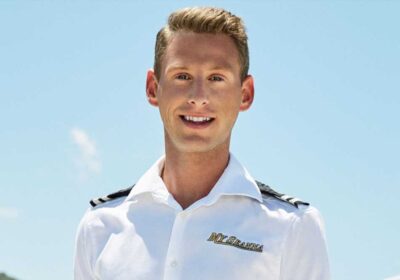 IT often looks like they're living the dream on screen, sailing from one exotic destination to another aboard a luxurious super yacht.
But Below Deck star Fraser Olender says it isn't always plain sailing when you're dealing with super rich clients.
The chief steward on Bravo's reality show tells The Sun he's seen more than his share of outrageous demands and seedy behaviour while working as crew.
"The drama you get on a yacht is very intense," he says. "It's actually 100 per cent worse and more intense off the show than it is on it.
"After all, you have 26 crew living on top of each other, and some of them will be idiots."
Catering to the whims of wealthy people staying on the boat can throw up some bizarre challenges.
"We create this incredible faux world on the yacht, but at times it is really hard," Fraser explains.
"I had a guest who, as we're pulling up into Portofino, decided he wanted to go see a friend and drive a really nice car to dinner and then drive it back to the yacht with their friends.
"But they wanted a car that was near to impossible to find, and it was absolutely not going to be rented by anyone.
"So within 72 hours, we purchased the impossibly sourced vehicle from Milan and had it taken to Portofino for 24 hours.
Most read in Reality
star wars
Towie's most bitter feud explodes as cast 'take sides' over Chloe Brockett row
GONE TOO SOON
'Curse' of The Bachelor – from star's horror crash to paragliding disaster
glam girl
Billie Faiers looks stunning as she flashes her legs in daring thigh-split dress
bed ridden
Gogglebox star sparks concern as she says she 'can't lift head off the pillow'