'I'm an astrology expert – here's why there's trouble ahead for Strictly's Bobby Brazier'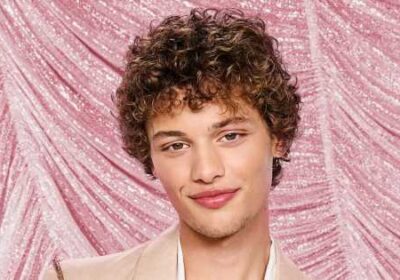 They're three of the stars most likely to win Strictly Come Dancing – musical theatre's Layton Williams, Casualty's Nigel Harman and Bobby Brazier from EastEnders.
But now an astrology expert has revealed who's most likely to go furthest in this year's show… and why there could be trouble ahead for 20 year old Bobby. And it all depends on which pro dancer they're lucky enough to be partnered with.
Michelle Bell, the founder of the personality and compatability app Cosmic Fusion, looked at both Western and Chinese astrology to get a better understanding of the celebs' and dancers' personalities, enabling her to predict who she says will do well in the competition – with some surprises.
In week one of the live shows, Layton and his partner Nikita Kuzmin scored big with their Samba and topped the leaderboard, although they were eventually replaced by Nigel and his partner Katya Jones, thanks to their incredible Paso Doble.
And in week two, Layton and Nikita reigned supreme thanks to their Quickstep, with Amanda Abbington and her dance partner Giovanni Pernice's Salsa securing them second place.
But eyes have also been Bobby, the show's youngest contestant this year, thanks to a 'different connection' with his pro-dancer Dianne Buswell and the fact he was an early bookies' favourite to scoop the Gliterball trophy.
Bobby and Dianne
Earlier this week, OK! revealed how Bobby and Dianne's connection makes it seem as though "they've known each other all their lives," according to body language expert Darren Stanton, speaking on behalf of Betfair.
This is something that Michelle from Cosmic Fusion strongly agrees with, saying: Bobby (Gemini) and Dianne (Taurus) reside on opposite ends of the astrological spectrum, as they have very different qualities and characteristics. However, there will likely be an immediate spark and connection between them."
Yet she also warned of a potential 'clash' and even 'fireworks', adding: "Their cosmic connection can evolve into something special if they're able to balance each other out. Just know there will be fireworks at times and they might clash here and there due to their inherently contrasting personalities."
With this in mind, it looks as though the trophy would be more likely to go to Layton and Nikita or Nigel and Katya, as Michelle sees them as potentially more compatible.
Nigel and Katya
Nigel and Katya's 'strong work ethic' and 'pretty strong compatability' could help them go far, says Michelle.
"They l have a pretty strong compatibility," she explains. "Nigel, being a Leo, likes to be centre stage – he's an outgoing, confident and very friendly person.
"While Katya is an equally strong character, she's happy to give Nigel more of the spotlight. Their strong personalities complement each other really well. They both have a strong work ethic and a desire to succeed".
Layton and Nikita
But it's possibly Layton and Nikita who work best together – and could therefore go furthest – with Michelle labelling them 'very compatible' even though they have 'differences'.
"When you look at the compatibility between Nikita and Layton, Nikita is definitely the leader in the friendship," she explains.
"He's an extremely strong character who has fierce self-belief and quite a big ego. He wants success, recognition and status. Layton is more reserved and laid back, he's passive, kind and loyal.
"Yet despite their differences, they're actually very compatible. Nikita can support and guide Layton, while Layton looks to Nikita for reassurance and direction."
Of course, it's only week three and anything could happen on Movie Night and beyond, with Angela Scanlon and Ellie Leach potentially shaking things up as the current the third and fourth favourites to win, according to Skybet.
At the other end of the spectrum, the latest bookies' odds indicate that Nikita Kanda could be knocked out of the competition next.
Alex Apati of Ladbrokes exclusively revealed to OK!: "Nikita Kanda has already faced one dance off this series, and the latest odds suggest she'll be set for another on Sunday night. We wouldn't be surprised to see her sent packing."
Strictly Come Dancing continues on Saturday at 6.20pm on BBC One
Source: Read Full Article