I'm A Celeb's Jill Scott's fiancee reveals all about footballer's plan on the show as she lands in Australia | The Sun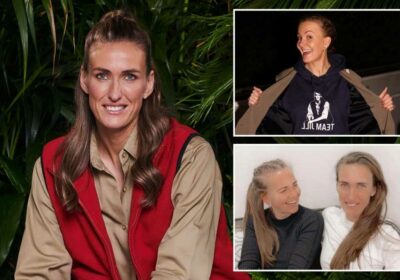 JILL Scott's fiancee says being free from the Beautiful Game will have felt bittersweet for the Lioness.
Landing at Brisbane Airport to support her partner, Shelly Unitt revealed the experience will have felt like a huge change for Jill.
She said: "She has been in football 16 years, been tied down to restrictions and now being able to do something like this.. it is huge and she will enjoy every minute of it.
"She is doing really well and she has got more to come as well. 
"She is a free person and she is getting on with everybody."
Jill has been bookies' favourite to win from the off and her odds improve with every day that passes. 
But Shelly said for Jill, it really is the taking part that counts. 
Shelly said: "I think she gets a good buzz from it even though I do hear she is the top favourite to win.
"I am just proud of her for being where she is now. 
Most read in I'm A Celebrity
I'm A Celeb's Matt Hancock, Jill Scott and Sue Cleaver enjoy surf-and-turf BBQ
Ant & Dec tell off Owen as he battles through I'm A Celeb Scareground Trial
Chris Moyles furiously shouts at Ant and Dec as he struggles during trial
Matt Hancock's girlfriend lands in Oz and says he's 'made of tough stuff'
"She would be grateful and humble and ecstatic but she is not in it to win. It is about the experience.
"My goodness me, the vibe is huge in Manchester and it is getting crazier and crazier at the coffee shop we own, which is good thing for us as a business. 
"When Jill is in the shop she likes to muck in and make the drinks. 
"We are selling hoodies with Vote Jill and profits will go to our chosen charity."
The couple are used to being apart for many months due to her incredible career on the pitch, but Shelly said this has been different.
She added: "Jill with her football went away with tournaments month to month but we always have contact so this has been the first time ever not speaking. So I am really missing her, I think everyone is missing her. It is a quieter home. Very quiet.
Read more on I'm A Celebrity
I'm A Celeb Owen Warner's mum opens up on their close relationship
I'm A Celeb's fake set revealed including paper rocks and secret cave
"I have got two daughters as well, Evie and Hattie and so they are missing her and bouncing around. They will watch the show.
"They are so proud of Jill and really excited. I didn't want to leave them at first but they said 'go go'.
"It is very different from seeing her playing football obviously because it is just for one hour but we are all rooting for her."
Shelly Unitt is the younger sister of former England football star, Rachel Unitt but doesn't play the game herself.
Together they own Boxx2Boxx Coffee in Manchester, where their customer base includes everyone from VIP athletes to loyal locals.
We pay for your stories!
Do you have a story for The Sun Showbiz team?
Email [email protected] or call us direct on 0207 782 4220 .
We pay for videos too. Click here to upload yours.
Source: Read Full Article