IDFA Announces Competition Lineup In 2 Categories, Plus Best Of Fest Program Ahead Of Amsterdam Festival's 36th Edition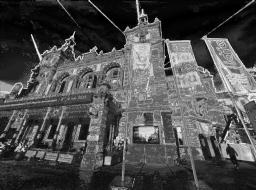 The International Documentary Film Festival Amsterdam is beginning to fill out its lineup leading up to IDFA's 36th edition next month. The largest all-documentary festival in the world today announced selections for the Competition for Short Documentary and the IDFA Competition for Youth Documentary, along with the films selected for the Best of Fests section and the "Signed" section, a new addition to the IDFA program.
One hundred films so far have now announced as part of the 2023 festival, which runs from Nov. 8-19 in the Dutch capital. "In addition, IDFA Forum, the festival's iconic co-production and co-financing market has expanded to a total of 64 projects, including seven by Ukrainian filmmakers," the festival announced. Full details on all the announced films are below.
Related Stories
Breaking News
IDFA's Program Takes Shape With Announcement Of Guest Of Honor Wang Bing's Top 10, Plus Peter Greenaway Retrospective
Documentary
Wang Bing & Peter Greenaway To Be Honored By IFDA Doc Fest
The newly created "Signed" section is described as inviting audiences "to discover the new cinematic adventures of the most interesting contemporary filmmakers. The first selection of this new program represents a wide spectrum of artistic expression and explorations into film language, with celebrated filmmakers at various stages of their documentary career."
Among the films chosen for that section are Frederick Wiseman's Menus-Plaisirs – Les Troisgros, and Steve McQueen's Occupied City, both of which run in the vicinity of four hours. Occupied City will be of particular relevance for the audience in Amsterdam because the documentary examines the city under Nazi occupation during WWII, going neighborhood by neighborhood and almost street by street to show where crimes against humanity were committed during the war.
Orwa Nyrabia, IDFA's artistic director, noted, "Our new section Signed starts from the filmmaker, not from the film. Signed is about acknowledging a filmmaker's career and oeuvre, giving the programming team the authority to recognize a unique cinematic voice or signature—beyond the canon."
The Signed section also includess documentary filmmaker Rosine Mbakam's narrative feature Madame Pierrette, "a moving and authentic portrait of a Cameroonian dressmaker's daily life," and The Echo, directed by Tatiana Huezo Sanchez. With Tehachapi, "established photographer and artist JR gives a voice to inmates in a maximum-security Tehachapi prison in California… In the profound Our Body, filmmaker Claire Simon presents a deeply intimate and clinically detailed observation of the obstetrics and gynecology department."
IDFA says final titles for the Signed section will be announced soon.
The festival is unique in devoting a section of its program to documentaries aimed at youth – some designed for audiences ages 9-12 and others designed for audiences ages 13 to adult. For the first time, IDFA tapped a filmmaker to curate the section: Niki Padidar, who brought her film All You See to IDFA in 2022.
"By inviting a filmmaker, being Niki Padidar, to lead this process, we are trying to rethink what we do with youth documentary," Nyrabia explained. "Niki is outspoken in wanting to move beyond the limits of structure and forced light-heartedness that fail to take children seriously. Her change starts with a compelling and complex selection and is followed by written reflections and debates during the Industry Talks program."
Padidar said in a statement, "This year IDFA Youth will push the envelope. More uneasy and bold topics and stretching the confines of the genre; applauding diversity in documentary storytelling. Taking youth seriously and challenging them, with film that are just as interesting for adults to watch."
The highly anticipated Best of Fests section "brings the highlights of the year's harvest, presenting the best films from Cannes, Berlin, Venice, Sundance, Visions du Réel, and CPH:DOX among others." Selections include:
IDFA Bertha Fund-supported film The Mother of All Lies by Asmae El Moudir; "an unorthodox reconstruction of a painful period for her family and homeland of Morocco."
The Disappearance of Shere Hite, Nicole Newnham's documentary that "tells the story of groundbreaking feminist writer and sexuality researcher Shere Hite."
Orlando, My Political Biography, directed by Paul B. Preciado, "shows a sparklingly intelligent and genre-fluid exploration of the trans experience."
Agniia Galdanova's Queendom, recipient of IDFA Bertha Fund support in 2022, follows "the everyday resistance and radical performance by non-binary Russian artist and activist Gena."
Kokomo City, D. Smith's directorial debut, "brings together violence, beauty, and wisdom in a raw portrait of four black trans women in New York and Atlanta."
Maciek Hamela's In the Rearview, winner of the top prize for documentary at Sheffield DocFest, puts viewers inside a van with Ukrainian war refugees fleeing to Poland as their country comes under Russian attack.
These are the details on other elements of the IDFA lineup announced today, as well as films in the shorts competition and youth documentary competition:
31st edition of IDFA Forum
Running from Sunday, November 12 to Wednesday, November 15, this year's IDFA Forum will welcome teams, Industry Representatives, and Observers to attend the Producers Connection, Forum Pitches, DocLab Forum, and Rough Cut Presentations. This year, the Forum expands its Rough Cut Presentations to take place over two days (November 12 and 13), the Forum Pitches will be scheduled to take place over two days (November 13 and 14). Producers Connection will take place on November 13.
"Next to presenting this year's outstanding slate of projects, we are excited to be expanding our capacity to showcase and adapt to the needs of filmmakers," said Adriek van Nieuwenhuijzen, Head of IDFA Industry. "We received a record number of Rough Cut submissions this year, over a third more than in previous years, which we took as a clear sign that filmmakers and producers are in need of support in their process. That is why this edition of Forum has extended its Rough Cut Presentations to show crucial projects from Ukraine that need to be seen and deserve the widest possible audience."
Forum Pitch
The Forum Pitch presents 20 projects this year. The selection includes notable filmmakers who make their return to IDFA, such as Aboozar Amini, whose Kabul, City in the Wind screened at IDFA 2018, and is now pitching the project Kabul, Year Zero, which threads together four vivid coming-of-age stories against the backdrop of war.
After presenting The Postcard at IDFA 2020 and receiving IDFA Bertha Fund support for The Mother of All Lies, Asmae El Moudir is back with Don't Let the Sun Go Up on Me, a VHS-driven love story between father and daughter. The Visit director Michael Madsen returns with Architecture as Invention, which captures star architect Daniel Libeskind's journey into imagining his final masterpiece.
A strong slate of emerging directors and producers also join the pitch lineup. Among them are Daniel Nils Roberts with EatenFish, with confirmed support by seasoned producer Anne Köhncke (Final Cut for Real Norway), which traces the future outlooks for a cartoonist who has fled his country. Artist Zoya Laktionova pitches her first feature-length project, using diaries and photographs to tell the stories of her own and other Ukrainian families whose homes have been destroyed by Russia's full-scale invasion in Ashes Settling in Layers on the Surface.
Producers Connection
Thirteen projects in early stages have been selected for Producers Connection, the Forum's section for fostering international co-productions. Several stand out projects previously received IDFA Bertha Fund support. City of the Sun director Rati Oneli returns with El Dorado, a story of seeking ancient cave riches in the face of environmental devastation, and A Girl and a Gun by Arya Amber Lalloo, which surveys personal and colonial archives in search for liberation from the image.
Rough Cut Presentations
Expanding the category this year, Rough Cut Presentations at Forum has selected 11 projects. Next to the usual six projects, the selection will showcase five urgent Ukrainian projects—four of which have previously received support by IDFA Bertha Fund. Highlights include the IDFA Bertha Fund-supported Flowers of Ukraine by Adelina Borets, which details one woman's battle to protect her lush green home from the full-scale invasion of Ukraine, and To Use a Mountain by Casey Carter, presenting rural American stories of environmental ruin and ecopolitical activism in six candidate sites for nuclear dumping grounds.
IDFA DocLab Forum
The market's new media strand IDFA DocLab Forum presents 20 projects in all stages of development and production. The selection includes experimental and playful projects tackling the subject of algorithms, gestures of love, and digital doubles. Next to a wide range of creative teams and subjects, the selection presents formats including VR, AR, games, mixed media, installations, and audio projects. Ambitious highlights include Nicolas Blies and Stéphane Hueber-Blies Ceci est mon coeur (Here lies my heart) and Francisca Silva's Knowing Your Nature. Baff Akoto's Collateral Echoes speaks of police violence in the United Kingdom, and Laura A Dima's Future Affair explores robots as a medium for human connection.
Selected films: IDFA Competition for Short Documentary
14 Paintings, dir. Dongnan Chen (China), 24 ' International Premiere
At That Very Moment, dir. Rita Pauls, Federico Luis Tachella (Argentina/Germany), 12 ' World Premiere
Between Delicate and Violent, dir. Şirin Bahar Demirel (Turkey), 15 ' International Premiere
Blow!, dir. Neus Ballús (Spain), 14 ' World Premiere
Dreams About Putin, dir. Nastia Korkia, Vlad Fishez (Belgium/Hungary/Portugal), 30 ' World Premiere
How to Please, dir. Elina Talvensaari (Finland), 27 ' World Premiere
Landslide, dir. Daniel Cortés (Colombia) 25 ' International Premiere
A Movement Against the Transparency of the Stars of the Seas, dir. Esy Casey (United States/Philippines), 31 ' European Premiere
My Father, dir. Pegah Ahangarani (Iran/Czech Republic), 19 ' World Premiere
Newsreel 242 – Sunny Railways, dir. Nika Autor (Slovenia), 31 ' International Premiere
Our Special Little Secret, dir. Anna Hanslik (France), 16 ' World Premiere
People from the Heart of the Earth, dir. Guahu'i Guyra Collective (Brazil), 40 ' World Premiere
Postcards from the Verge, dir. Natalia Koniarz (Poland/Bolivia), 40 ' International Premiere
Red Flag, dir. Mónica Taboada-Tapia (Colombia), 20 ' International Premiere
The Story of Ne Kuko, dir. Festus Toll (Netherlands), 25 ' World Premiere
Selected films: IDFA Competition for Youth Documentary
Films in the 9+ category:
And a Happy New Year, dir. Sebastian Mulder (Netherlands), 21 ' World Premiere
Figure, dir. Jonas Sars (Netherlands), 2 ' World Premiere
Girl Away from Home, dir. Simon Lereng Wilmont, Alisa Kovalenko (Denmark/Norway), 22' World Premiere
Girls Stories, dir. Aga Borzym (Poland), 62 ' International Premiere
JessZilla, dir. Emily Sheskin (United States), 90 ' European Premiere
Nelson the Piglet, dir. Anneke de Lind van Wijngaarden (Netherlands), 15 ' World Premiere
Films in the 13+ category:
Another Body, dir. Sophie Compton, Reuben Hamlyn (United States/United Kingdom), 80 ' Dutch Premiere
Boyz, dir. Sylvain Cruiziat (Germany), 72 ' International Premiere
Eternal Father, dir. Ömer Sami (Denmark), 31 ' International Premiere
Headprickles, dir. Katarzyna Miechowicz (Poland), 8 ' Dutch Premiere
Love, Your Neighbour, dir. Jethro Westraad (South Africa/Hungary/Portugal/Belgium), 8 ' World Premiere
Nyanga, dir. Medhin Tewolde Serrano (Mexico), 20 ' Dutch Premiere
Sister of Mine, dir. Mariusz Rusiński (Poland), 30 ' European Premiere
The Sketch, dir. Tomas Cali (France), 9 ' Dutch Premiere
Where Am I From?, dir. Nouf Aljowaysir (United States/Saudi Arabia), 12 ' Dutch Premiere
Must Read Stories
Warner Bros. Discovery's Gerhard Zeiler Sets New Leadership Team
Pete Davidson, Bad Bunny Among Season 49 Hosts; New Castmember; Premiere Date
CAA Claims Ex-Client Asked For $15M Before Filing Weinstein Sexual Assault Suit
Ridley Scott, Michael Mann, Emerald Fennell & Many Others Set For London Event
Read More About:
Source: Read Full Article