'I watched Friends for the first time — and I must have cracked a smile once'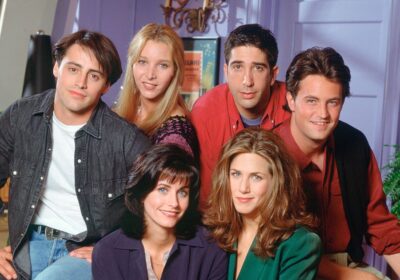 It's been nearly three decades since Friends aired for the first time – and I'm one of a mere few who has never watched the so-called hilarious sitcom.
Despite the programme wrapping in 2004, you'd think it was *still* going… For some reason unbeknownst to me, I can't get away from it.
A cheeky trip to Primark has resulted in me dodging the shelves neatly stacked with the show's endless merchandise (they've even built a replicate cafe in its stores). And one scroll on Facebook and I'm seeing a meme shared by the locals about two characters being "on a break" (?).
READ MORE: Friends fans left stunned as they discover a 'secret' glitch on set of the show
READ MORE: Friends fans left stunned as they discover a 'secret' glitch on set of the show
So with the award-winning show turning 29 on Friday (September 22) I thought why not sit down and watch it. Armed with a cup of tea, I loaded up the pilot episode on my Neflfix and begrudgingly clicked the play button.
Opening credits here we go and straight away, it's hard to not notice the all-white cast. (This is something the show's creators did acknowledge recently, claiming if they were to make Friends today, the racial makeup of the cast would be a lot different.)
Around 15 minutes in and I surprisingly already have a favourite character; definitely Phoebe. And my least favourite? Chandler – (reminds me of that one person who just *always* has to say something they think is hilarious…)
A few episodes in and Chandler is still as annoying as ever, and Joey most definitely needs a haircut. (Although, when Chandler tried to pack in his ciggy habit in episode three, I did kind of relate, and even kind of cracked a smile).
As the episodes go on, it seems the six pals Ross and Monica, Chandler, Rachel, Joey and Phoebe were *the* people you wanted to hang out with at the Central Perk cafe back in the day. But would I want to hang out with them now at Spoons? I'll pass.
It's only when I get to episode 12 that things seem to be getting a bit better. (That or I've just become used to the deadpan studio laughter, Rachel's winging and Chandler's cringe one-liners).
But watching Friends in 2023, it's kind of hard to ignore the slew of storylines practically laced with borderline homophobia and sexism.
Monica as a teenager was overweight (which was *the* joke). Ross' ex-wife Carol is a lesbian – which is relentlessly brought up to make her the butt of several jokes throughout the series. And Chandler was appalled at the thought of someone thinking he was gay…
Have you joined Threads? Follow Daily Star to keep up to date on all things showbiz here.
It's not *all* bad though – the show does has some funny moments – mainly involving the ladies to be honest. In episode four the trio have a cocktail-filled slumber party where they fret over their future (relatable). And in episode fourteen, they spend Valentine's Day burning all the sh*t from their exes. (Again, relatable).
But still, it might have taken me 26 years to watch a full Friends episode let alone full season, but I don't regret it. And will I watch another? No thanks.
For more of the latest showbiz and TV news from the Daily Star, make sure you sign up for one of our newsletters here.
Source: Read Full Article