I was part of some of Hollyoaks' biggest storylines but quit fame for a very normal job | The Sun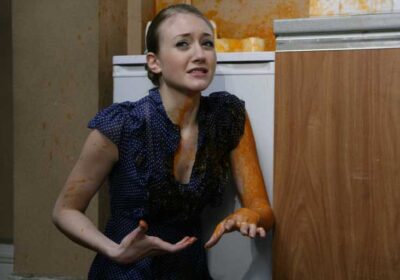 HOLLYOAKS star Ashley Slanina-Davies quit soap land for a very smart career studying neuroscience.
The 33-year-old playedAmy Barnes between 2005 to 2014, and returning to our screens for a brief stint in 2016.
During her 10 years on the Channel 4 soap, Ashley's alter-ego Amy was involved in a number of hard hitting storylines.
Some include her teen pregnancy, her abusive relationship with Ste Hay, her daughter Leah's leukaemia and post natal depression.
Her shock death shocked fans back in 2017 when she returned to the soap.
Amy was killed by her husband Ryan Knight after her strangled her in 2017.
Read more on Hollyoaks
bumping on
Pregnant Hollyoaks star Chlesee Healey shows off baby bump in skintight jumpsuit
HOT STUFF
Hollyoaks' Jennifer Metcalfe shows off curves in leather trousers
Ashley has appeared in a number of other shows including Hollyoaks Later.
The soap star also took part in Dancing On Ice in 2006.
But she also has also put a lot of time into her studies.
When she had her first break from Hollyoaks, she decided to start studying neuroscience at University College London (UCL). 
Most read in Soaps
EMMERWAIL
Manpreet Sharma takes drastic action to save Charles Anderson in Emmerdale
SAVING RESIDENT RYAN
Daniel Osbourne makes discovery about Ryan Connor in Coronation Street
SCRUB UP WELL
Emmerdale stars Isabel Hodgins and Eden Taylor-Draper look glam on night out
OH BOYD
Mackenzie Boyd hit by devastating bombshell in Emmerdale
She previously told Metro: "I didn't act when I wasn't here at Hollyoaks – I went to uni and studied neuroscience. 
"A lot of people say that it's very different from acting, but you can see them as the same thing because neuroscience is the scientific study of the brain and the nervous system – and, by extension, people.
"Acting is also the study of people, but it's just on a more emotional level.
"So I guess maybe there was a bit of me that thought: 'Okay, well I've done that and I've done it on more of an empathetic level.
'Now let's just see if I can really understand what goes on'."
When Ashley made her epic return to the village in 2016, she was still studying for her degree.
In 2020 Ashley was also Students' Union Education Officer at UCL.

Source: Read Full Article