'I didn't want my life cut short' Fern Britton opens up on 'life-saving' surgery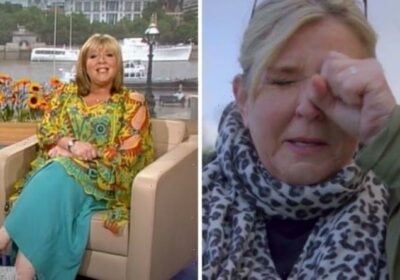 Fern Britton impersonates Rosemary Shrager on a boat
We use your sign-up to provide content in ways you've consented to and to improve our understanding of you. This may include adverts from us and 3rd parties based on our understanding. You can unsubscribe at any time. More info
Fern Britton, who once hosted This Morning alongside Philip Schofield, candidly discussed her decision to get a gastric band on an unearthed episode of Iain Dale's Bookclub podcast. She told Iain she had the surgery because she "didn't want her life cut short" as she was heading towards diabetes and arthritis.
The award-winning television presenter was invited onto an episode of Iain Dale's Bookclub podcast, where the pair had the chance to chat about her broadcasting career, and the backlash she's faced over her weight.
Iain said: "We all have things in our lives we'd prefer people not to know about but there are so many different celebrity magazines now and different television channels that have these sort of gossipy programmes.
"Inevitably, if there is something you don't want the world to know about you can bet your bottom dollar that at some point they will find out about it."
Fern agreed and confessed she's always been "pretty open" about everything, but sighed and said that "everybody knows everything" nowadays.
She said: "It's much easier to get it over and done with you know?"
Iain then mentioned that Fern has always been very open about her weight over the years.
She replied: "Yes, and I will say one thing about that [weight].
"I had my gastric band put in, which was wonderful and I really believed I could have one thing for myself.
"[It was] a private medical procedure, which to be honest, was pretty life-saving because I was heading towards arthritis and diabetes and I didn't want my life cut short."
However, little did Fern know that her procedure would cause a media frenzy for the following two years.
She explained: "Because I had the audacity not to tell a newspaper, I received two years of utter venom from the media."
At the time Fern was working on This Morning and explained that she received "masses" of emails every day after filming about her weight.
She added: "And now it's in the news that we are all going to get gastric bands on the NHS because it helps us live longer, so that was a very tough time for me."
DON'T MISS…
Lisa Nandy blasted for criticising 'weak link' Dominic Raab
Alex Jones makes The One Show return with baby daughter
Meghan MaCain savages old friend Joe Biden in furious Twitter rant
Fern presented This Morning on ITV alongside John Leslie from 1999 to 2002, and then with Philip Schofield from 2002 until 2009. She was replaced by current co-presenter Holly Willoughby.
Back in 2008, Fern decided to undergo a gastric band operation.
The operation is used by many who are looking to lose drastic weight – and Fern went from a size 22 to a size 12 following the procedure.
It puts a small soft band around the stomach, limiting what can be put in it in one sitting.
Speaking on the podcast, Iain told Fern: "The more that people talk about these things the more it actually helps people feel like they are not the only ones."
Fern then explained that she has always talked openly about suffering from depression too.
She added: "But I did feel weight loss and my own little operation was for me only, but it wasn't, so there we go."
Iain couldn't resist asking if Fern would like to appear on primetime television once again.
Fern said: "I don't think I'd ever want to do a daily television programme like I did, but I did have my time in the sun and there are some young people coming through – and they are very good, so it's my turn in the shade."
Iain Dale's Bookclub podcast is available on Spotify, Apple Music and other streaming services.
Source: Read Full Article