How 'Lizzo's Watch Out for the Big Grrrls' Cast Is Changing Reality Shows Forever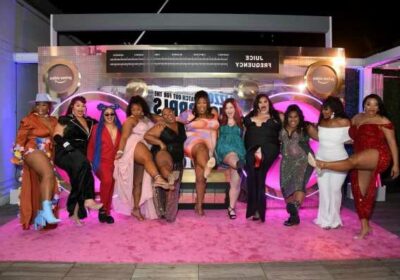 If there's one celebrity who walks her talk, it's Lizzo. Lizzo's music and lyrics have consistently preached self-love and body acceptance. But Lizzo's mission to spread body positivity extends far past just her music. Most recently, Lizzo hosted her first reality show, and fans can't stop talking about it. Learn how Lizzo's Watch Out for the Big Grrrls cast is changing reality TV.
'Lizzo's Watch Out for the Big Grrrls' cast challenges the status quo
For the past few years, Lizzo has performed alongside a team of dancers she calls her Big Grrrls. Becoming one of Lizzo's Big Grrrls is a coveted position for professional dancers and dance enthusiasts alike. Lizzo's Watch Out for the Big Grrrls team scoured the country to find the next set of dancers for Lizzo's performances.
During the first episode, Lizzo chose dancers ranging in age from early 20 to mid-30 — a big move in an industry where most dancers are phased out after the age of 30. Additionally, the dancers all had varying body types, cultural backgrounds, and training. Jayla Sullivan, a dancer from Portland, Oregon, began her career as a gymnast before moving into the dancing world.
"Being a trans woman in the dance world is tricky," Jayla said before her audition in episode 1 of Lizzo's Watch Out for the Big Grrrls. "… I'm not the stereotypical feminine enough. And throw being plus-sized on top of that, and the world just kind of looks at you and doesn't expect you to be able to do what I am striving to do."
Lizzo celebrated the dancing backgrounds of each contestant and encouraged them all to incorporate their unique talents into their choreography. Fans took note of these game-changing casting choices. During a special screening with Lizzo's Watch Out for the Big Grrrls cast, Lizzo talked about the influence the show has had on fans.
"I've been reading tweets, and y'all don't realize how much this is more than a television show," Lizzo said. "In one tweet, someone said, 'This has changed the course of my entire life, just by watching one episode.'"
Lizzo hired coaches to help contestants feel empowered
It's easy to tell people to feel confident in themselves. It's another thing entirely to actually provide them with the tools necessary to learn to have confidence. And that's exactly what Lizzo did for the Lizzo's Watch Out for the Big Grrrls cast. During each episode, Lizzo presented contestants with two awards: the 100% That B**** Award for the contestant who gave everything she had to her dance journey that week and the Juice Award for the contest who overcame something. Each prize came with either gifts or special perks.
"I didn't want the girls to be exhausted every week without giving them something to look forward to for going through so much," Lizzo said before presenting the first awards during episode 2.
Lizzo also hired Rashida KhanBey Miller, a sensual movement coach who specializes in helping people heal through dance. During the episode, several contestants emotionally shared how they released body-shaming memories during the workshop with Rashida. Lizzo also brought in a photographer to take snapshots of the dancers during a nude photoshoot. And at every step, Lizzo was there to encourage the dancers to know their worth. Unlike traditional competition-based reality shows, Lizzo and her team genuinely wanted each contestant to win in every sense of the word.
Lizzo wasn't interested in drama
Arguably, if there's one thing reality TV is known for, it's drama. In fact, most reality show fans would probably be shocked to learn that a competition show could be entertaining without drama. But Lizzo just proved that it's 100 percent possible. In fact, the moment drama began to surface with one of the contestants, Lizzo eliminated it. In episode 5, Lizzo asked dancer Jasmine Morrison to leave the show after Jasmine admitted to being the source of several complaints from other contestants.
"It's really important to me that there's a camaraderie and a sisterhood of authenticity that happens," Lizzo said to Jasmine. "It's not just about dance around here. It is about your heart. And it is about your ability to relate to each other. And a huge house rule is no toxicity."
Lizzo's team even celebrated mistakes on the show. Each week, dancers gave their all during choreographed dance routines. And just like in real life, dancers made mistakes. Regular reality shows would have catastrophized those moments for the sake of entertaining drama, but Lizzo didn't do that. Instead of focusing on the mistakes, Lizzo and her team celebrated the dancers' abilities to recover and move forward after making a mistake.
In the end, Lizzo's Watch Out for the Big Grrrls cast showed the world just what it takes to be 100 percent that b****, and it's nothing like anything we've seen on reality TV before.
Source: Read Full Article