Holly Willoughby sent 'message' in statement after Phillip Schofield exit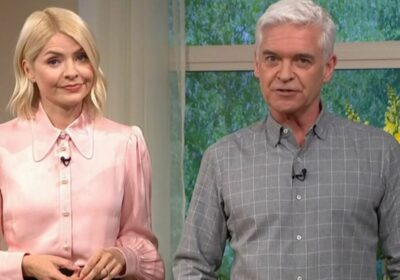 Dawn Neesom discusses 'secret message' in Holly Willoughby's statement
Phillip Schofield's departure from This Morning has been a hot topic of conversation and during Monday's GB News, Eamonn Holmes and Isabel Webster shared their thoughts.
The presenters welcomed Dawn Neesom and Fraser Myers onto the show to chat about the reason behind Phillip's exit.
As they discussed the latest newspaper headlines, Dawn claimed Holly Willoughby seemed to send a secret message in her statement on Saturday.
She said the ITV host put a pink heart emoji instead of a red one, which is apparently a sign of "girl power".
She began: "The interesting point of this story is the statement. There is so much more going on to it than meets the eye and I think a lot of people out there are aware that there is there are other stories that will potentially come out.
"Obviously we can't go into it now but that is the story… where we are at the moment is that they are no more after a very long relationship together.
"The Mail has also done a very interesting piece analysing Holly's statement in particular, where she actually really didn't mention Phil much by name or reference their friendship even though they've been going on holiday together for years.
"And she said, 'The sofa won't feel the same without him' and a little pink heart emoji.
"Now this has been interpreted… I'm not up to speed on emojis I often get many of them wrong.
Don't miss…
ITV viewers brand GMB 'diabolical' as they ignore Phillip's Schofield exit[REACTION]
Blue Bloods' Danny and Baez romance 'sealed' as fans spot 'jealousy'[LATEST]
Maryland episode count explained as sisters brought together through tragedy[INSIGHT]
"But a little pink heart emoji rather than the red one means girl power, so this is a hidden message that basically what Holly wants Holly gets and she's got her girl gang.
"But I mean, you know this started to fall apart in 2020 when she left the joint management agency and set up her own entirely female-staffed PR agency and management agency.
"And then of course, last year with the queue jumping to the Queen and the writing was on the wall there.
"There are more stories to come out. I think we all know that and I think that's why ITV have acted now and sacked him because they're very aware of what will come out."
Dawn also discussed Phillip's statement, adding: "His statement was very weird again, wasn't it? I suppose it was very This Morning and Daytime TV sort of like language.
"And he kept going on about kind he has been and a lot of people in the business said, 'That's the least thing you are actually'.
"And you know I just keep going back and then this might be a bit personal, Eamonn, but his kindness wasn't much in evidence when he really rudely interrupted Ruth when she was trying to do a link to Loose Women."
Breakfast with Eamonn and Isabel airs weekdays from 6am on GB News.
Source: Read Full Article