Hirokazu Kore-Eda On Working With Late Composer Ryuichi Sakamoto, Reteaming With 'Shoplifters' Actress Sakura Ando On Cannes Title 'Monster'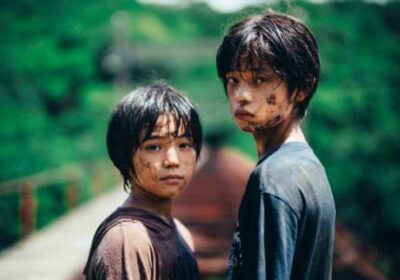 Hirokazu Kore-Eda is back in Cannes Competition after winning the Palme d'Or for Shoplifters in 2018 and last year presenting Korean-language Broker, which won best actor for Song Kang-ho. His new title, Monster, reteams him with Shoplifters actress Sakura Ando and is the last film to be scored by Oscar-winning composer Ryuichi Sakamoto, who Ryuichi Sakamoto Dies: Oscar-Winning Composer Was 71 at 71 following a battle with cancer.
Related Story
'RRR' Helped Jump-Start A Global Expansion For South Indian Cinema. How It Happened And What's Next
Scripted by Yuji Sakamoto (We Made a Beautiful Bouquet), Monster revolves around a single mother (Ando) who suspects there is something wrong at her son's school when he starts behaving strangely. She storms into the school and accuses a teacher of bullying her son, only to have the teacher claim the boy is bullying another pupil, an eccentric child who appears to be having problems at home.
The cast also includes Eita Nagayama (Hara-Kiri: Death Of A Samurai) as the teacher and veteran actress Yuko Tanaka (Amagi Pass) as the school's principal, while the two boys are played by Soya Kurokawa and Hinata Hiiragi, both making their big screen debuts after acting in Japanese TV dramas.
As the film progresses, it challenges our notions of who is the victim and the aggressor, re-telling the story from different perspectives. It revisits many of the themes of Kore-eda's previous films – treatment of children, family dynamics and how normal households reflect larger problems in society. But it marks the first time that Korea-eda has directed a film he didn't write himself since his 1995 debut Maborosi.
Kore-eda boarded the project in 2019 at the invitation of producers Genki Kawamura and Kenji Yamada, but was previously aware of Yuji Sakamoto's work across films and series, and was keen to collaborate with him. "Although I'm a bit older than him, we're of the same generation and deal with similar topics," Kore-eda tells Deadline.
"When I first read the script, it felt like a microcosm of what is happening around the whole world in terms of intolerance and the divisions between people, issues that only became worse during the pandemic. I also find it interesting that as viewers we bring our-preconceived notions into the film, but as it unfolds, these start to fall away."
Shoplifters had a similar premise of overturning viewer expectations, but Monster moves in different directions and reaches a very different conclusion. Kore-eda says he immediately thought of Ando to play the mother when first approached about the project, as she is "a bottomless actress, and I didn't think we'd reached the depths of her talent in Shoplifters."
Ando spends less time on screen than in Shoplifters, in which she also played a mother, albeit of a very different nature, but her role is pivotal to the plot of Monster. According to Kore-eda, she also helped bring out the performances of the child actors, to the extent that she acted like a surrogate mother when they had questions about their acting: "When I first offered her the project, she said this role would be more focused on supporting the children. Without her, I don't think we would be able to get so much out of their performances."
The two boys, Kurokawa and Hiiragi, were both cast through auditions. Kore-eda says that in his previous films, he would verbally teach the child actors their lines, whereas he worked differently with these two young actors whom he found preferred to read and memorize the script. He also feels this approach may have been more appropriate, as both characters face complex issues, so it was more important they could actually act rather than play versions of themselves.
"Soya [Kurokawa] has very delicate mannerisms in acting – you can see his internal struggles as he works on bringing up the emotions required for each scene, which made him ideally suited for this character," Kore-da remembers. "Hinata [Hiiragi] was quite different, as he's played the protagonist in many dramas, so he can detach himself and you can see he's very cleverly playing a role."
The idea to collaborate with Ryuichi Sakamoto came to Kore-eda while he was shooting the film. During the evenings, by the shores of a lake where the crew were staying, he could hear Sakamoto's piano music playing in his head. They'd been working on a project together some nine years previously that never came together. But he hesitated to ask him now as he knew he was in the later stages of his illness.
Eventually, Kore-eda plucked up courage to send him some pre-edited footage of the film and Sakamoto responded in less than a week. "He said that due to his physical condition, he wouldn't be able to write the whole soundtrack, but had a couple of ideas that he would send to me with no obligation to use them."
Sakamoto ended up scoring two key scenes in the film, and also allowed Kore-eda to use any tracks he wanted to from his last solo album 12, a collection of musical sketches recorded during his battle with cancer. Kore-eda says of the process: "I didn't want to pressure him further or enter into deeper discussion, but this became such a precious experience and something I'm hugely proud of."
Monster receives its world premiere in Cannes Competition on May 17. Goodfellas and Japan's Gaga Corp are jointly handling international sales on the film, which has already been sold to more than 27 territories. Japanese release is scheduled through Toho and Gaga on June 2, 2023.
Although the pandemic delayed Monster's production until after he made Broker, Kore-eda has remained busy throughout the past three years. In addition to his two Cannes Competition titles, he also directed Netflix series The Makanai: Cooking For The Maiko House, which started streaming in January. He is currently working on another series that starts shooting after summer and has a film project lined up for next year.
Must Read Stories
Disney Day: Kathleen Kennedy; ABC; Premiere Dates For 'Only Murders', 'Loki' & 'Echo'; More
Opening Ceremony For Depp Movie Fetes Michael Douglas; Photos; Review
Latest Market Deals; Party List; Photo Galleries; Brie Larson Talks Johnny Depp Movie
'Fast X' Revving Up To Run Circles Around World With Near-$300M Bow: Preview
Read More About:
Source: Read Full Article