Here's What Emmy Rossum Looks Like Without Makeup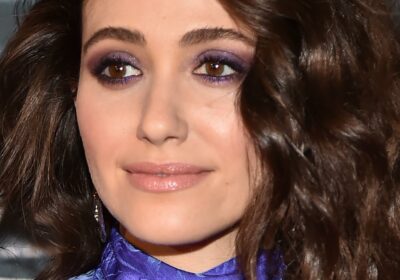 Emmy Rossum mesmerized musical fans with her angelic voice in "The Phantom of the Opera" and became a TV tour de force when she was cast in the Showtime series "Shameless." Her character, Fiona Gallagher, was a scrappy, working-class Chicagoan who was resourceful and resilient. She kept on fighting for something better, even as she learned that success can be fragile and fleeting.
Rossum's role required her to film nude scenes, so she had to be fairly comfortable in her own skin. The actor told Glamour that the one thing she would steal from Fiona was "her ease with her own body." Fiona also didn't wear a lot of makeup, and when she did, it looked nothing like the glam beauty looks that Rossum rocks on the red carpet — it could be a bit of a hot mess. "When Fiona wears makeup, we'll pick a lipstick color that's a little bit off, or a smudgy green liner that runs down her face," the actor told Byrdie. During an interview with Coveteur, she revealed that the character's go-to lip color was Burt's Bees pink rose lip balm.
Rossum said that playing Fiona was "quite liberating" because she wore so little makeup and was still complimented on her appearance. "People respond to her and find her very attractive, and that's the least makeup I've ever worn," she said. Rossum also receives plenty of positive feedback when she shares makeup-free photos on social media like the one below.
How Emmy Rossum's husband has influenced her beauty routine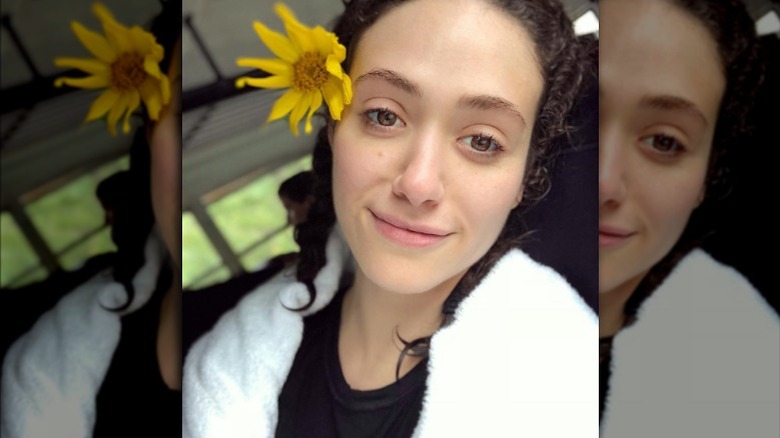 Celebrities have access to all sorts of lotions and potions that us crater-pored plebes simply do not have the beauty budget for, which makes it easier for them to look fresh-faced and flawless when they're not wearing any makeup. For example, Emmy Rossum told Byrdie that she gets "a facial every six to eight weeks." She also uses hundreds of dollars worth of products on her face, including BeautyCounter oils and Restørsea's Day Cream. However, when it comes to keeping her skin clear, Rossum has shared one cheap trick to try. "I went off of cow's milk for my skin and I realized that almost any pimples went away," she told The Cut.
Rossum told ELLE that she usually skips wearing foundation, and her husband, producer Sam Esmail, deserves some credit for inspiring her to use less concealer. She was self-conscious about a visible blue vein underneath one of her eyes, but Esmail told her that he "fell in love" with her when he noticed it while they were working on a project together. "He told the makeup artists, 'Whatever you do, just make sure you can see the skin under her eyes, because it feels very human,'" she recalled during a 2017 InStyle interview. Rossum also stopped wearing fake eyelashes after Esmail witnessed her removing them. "My husband went, 'Oh my God! What is that?'" she recalled to People. "His reaction woke me up to how strange they were."
Emmy Rossum became unrecognizable for a new role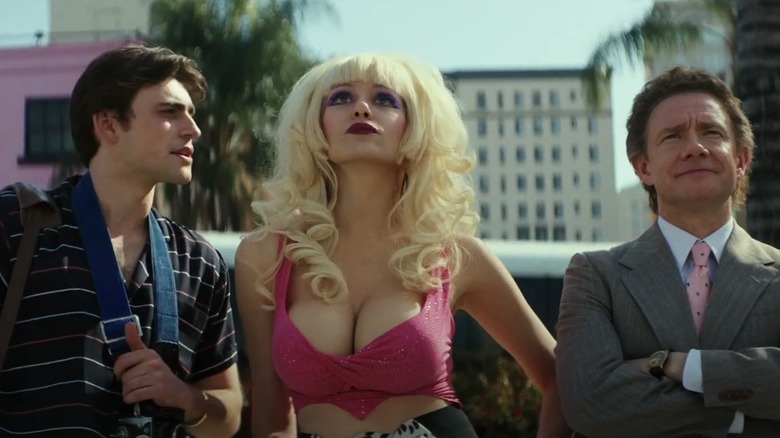 Emmy Rossum is a huge fan of the natural beauty look. She was the face of Burt's Bees' "I Am Not Synthetic" campaign, and she told Coveteur that she hates "when makeup feels or looks like makeup." This makes her a surprising choice to star in Peacock's "Angelyne," a series about the life of the titular model and singer who became a cult Hollywood icon by having her image plastered on billboards in Los Angeles. The real Angelyne wears heavy makeup, including dark red lipstick and bright purple eyeshadow. She's also undergone a few plastic surgery procedures.
To bring the character to life, Rossum had to wear large prosthetic breasts and a blonde wig. But, while she looks unrecognizable in the series' trailer, Angelyne was not sold on Rossum's transformation. "She doesn't really look like me and I'm getting more attention than her, actually, because she's playing me — which is good," she said while speaking to Paris Hilton for Interview Magazine. Angelyne also told the Daily Mail that she had shared her concerns about Rossum's appearance with the show's producers. "They're trying to make it look a little bit better," she said. 
We are dying to know when we can see Rossum — who told Byrdie that she is "hungering for something that is real and natural that feels attainable" — portray a character who is so unlike her, but according to Deadline, there have been no updates on "Angelyne" as of August.
Source: Read Full Article