Happy Valley star slapped in supermarket by stranger over role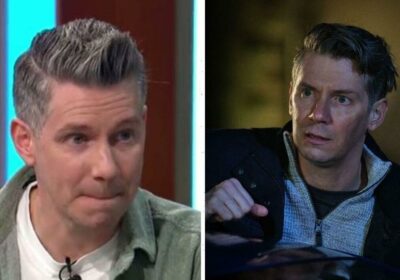 Happy Valley's star Karl Davies reveals he was once 'slapped'
We use your sign-up to provide content in ways you've consented to and to improve our understanding of you. This may include adverts from us and 3rd parties based on our understanding. You can unsubscribe at any time. More info
Warning: The article contains spoilers from Happy Valley series three.
The third and final series of the BBC crime drama drew to a close on Sunday night as fans watched the ultimate showdown with Catherine Cawood (played by Sarah Lancashire) and Tommy Lee Royce (James Norton). Speaking about the epic ending on Lorraine, actor Karl Davies, who plays Daniel Cawood on the show touched on the series finale.
Since 2014, fans of the BBC crime drama have been anticipating the ending between Tommy and Catherine.
With the series drawing to a close after nearly a decade, people have grown to know and love the characters throughout the three series.
One of which includes Daniel Cawood, who had an estranged relationship with his mum and nephew Ryan (Rhys Connah) until the second series in 2016.
However, seven years later in the last instalment, viewers saw Daniel joined at the hip to Catherine along with being in a relationship with PC Ann Gallagher (Charlie Murphy).
On Monday, the actor appeared on ITV's Lorraine to speak about the showdown between Catherine and Tommy.
Although during their chat, he touched on an incident in the past where one member of the public took his role from Emmerdale a bit too seriously.
During their chat, he confessed: "I did get a slap off a lady in Marks and Spencers."
Shocked, Lorraine replied: "You're joking. What is the world coming to?"
With entertainment reporter Ria Hebden asking why Karl continued: "Just because the character wasn't very nice.
"It's a relief to be playing a nice guy in Happy Valley.
"Apparently there was a comment about how old I look now compared to then. Well, that was 20 years ago, do you know what I mean?"
The actor starred in the ITV soap as Robert Sugden between 2001 and 2005 along with making a brief return in 2009 for his on-screen dad's funeral.
Speaking about the Happy Valley finale on Lorraine, Karl revealed that he was given a redacted script along with most people in the cast.
When asked how it feels now that the show is officially over, he replied: "Very sad, we had a great time doing it. It's been the best part of 10 years."
With Catherine and Tommy's long-running rivalry coming to an end, over 11 million viewers tuned in to watch the finale which saw the nemesis coming face to face after all these years.
Despite the criminal being the main cause of misery and suffering in Catherine's life, it was Tommy who said he forgave her during an intense conversation.
Although, he confessed that she had given his son a good life after taking him in following the suicide of her daughter.
Waiting for backup to arrive at her house to take the criminal back to prison, Tommy handed over Darius Knezevic (Alec Secareanu) as he revealed he'd killed Gary Gagovski
However, with reality setting in, Tommy set himself alight as he refused to go back behind bars.
Managing to put the flames out, the criminal was taken to hospital where he ended up in a coma.
Happy Valley is available to watch on BBC iPlayer.
Source: Read Full Article