Happy Valley song: The hidden meaning in Tommy Lee Royce's track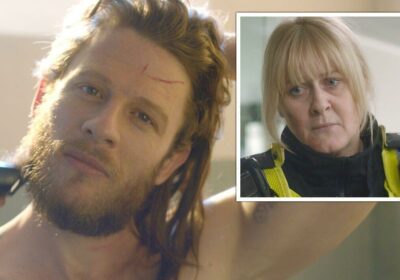 Happy Valley: James Norton sets the scene for BBC crime show
We use your sign-up to provide content in ways you've consented to and to improve our understanding of you. This may include adverts from us and 3rd parties based on our understanding. You can unsubscribe at any time. More info
WARNING: This article contains spoilers from Happy Valley season 3.
Tommy Lee Royce (played by James Norton) was sporting a dramatic new look in this week's Happy Valley on BBC One after getting smartened up for court. He was about to get sentencing for his part in an organised crime murder. The violent criminal was getting his long hair and beard shaved off before turning up for his trial.
What was the meaning of the song in Happy Valley?
While Tommy was having his hair shorn off, he was listening to a track which seemed to grow louder as he transformed.
Tommy was listening to Nirvana's acoustic version of Where Did You Sleep Last Night? or In the Pines.
The song is about a man who asks if his wife has been cheating on him.
He repeatedly asks him: "My girl, my girl, don't lie to me Tell me where did you sleep last night?"
As the track goes on, the narrative grows sinister with the lyrics going on to say: "Her husband was a hard-working man.
"Just about a mile from here/His head was found in a driving wheel/But his body never was found."
So, the man dies going out into the cold to look for his wife in a mysterious and horrifying way.
The use of the track in Happy Valley seems to have been included to create a sense of foreboding and to hint at some of the darker moments to come later on.
The version of the song Tommy is listening to was performed live on MTV Unplugged in 1993 and features on their album MTV Unplugged in New York which was released in the following year.
The song is actually a traditional American folk song which is said to have its origin in two song other songs – In the Pines and The Longest Trains.
This folk song is thought to have its origins in the 1870s with versions of the track made throughout the years by different artists from across all genres.
Among the most famous renditions of Where Did You Sleep Last Night? are versions by Bill Monroe and Lead Belly.
DON'T MISS:
Happy Valley cast mistaken for real police officers while filming
Happy Valley fans are keen to know more about Sarah Lancashire
Happy Valley star details James Norton 'switching into psychopath'
Nirvana's version is based on the Lead Belly version with the band's lead singer Kurt Cobain saying: "This is written by my favourite performer, our favourite performer, isn't it," turning to look at the rest of his band members.
Cobain got nods of affirmation from the rest of the grunge band and went on to say: "All of ours. We like him the best."
One of the other band members joked there was a "donation basket" as Cobain wanted to buy one of Lead Belly's guitars.
He then said: "Oh yeah, this guy representing the Lead Belly estate wants to sell me Lead Belly's guitar for $500,000."
Cobain joked: "I even asked [billionaire] David Geffen personally if he'd buy it for me. he wouldn't do it."
According to Song Facts, MTV requested Nirvana to perform an encore after playing Where Did You Sleep Last Night?, but Cobain refused because he felt the song hadn't gone down well with the live audience.
However, the site said the audience's silence was due to the performance proving to be mesmeric and left fans in awe as they heard the song.
Additionally, Cobain and his wife Courtney Love performed the song together in 1993, one of the few times the couple had played together in public.
Happy Valley season 3 airs on BBC One on Sundays at 9pm
Source: Read Full Article