Griff returns and is seething with rage at Spider's bombshell in Corrie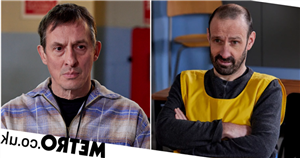 We hoped we'd seen the last of horrible Griff (Michael Condron) in Coronation Street when the far right thug was arrested in January for his vile extremist views and his part in various violent plots, including the bomb planted in the Speed Daal van.
Griff's downfall was thanks to the hard work of Spider Nugent (Martin Hancock) who risked his life to bring the evil gang to justice, but at the time of his arrest it was confirmed to us that Griff would be returning and his storyline was far from over.
In upcoming episodes Spider pays a visit to Griff in prison to offer him a deal. He says that Griff's sentence could be reduced if he reveals where the gang got their funding from. Eager to get out of prison Griff tells him that the moneybags behind the terror campaign was none other than Councillor Len Cameron (Mark Murphy).
Viewers have known about this connection for a while, after the corrupt councillor was revealed to be funding the gang back in December. The residents of Weatherfield, however, remained in the dark about the councillor's true agenda and the fact that a man in a position of real power could be holding such dangerous views.
That's all set to change now as Spider, armed with this new information, is now in a position to take action against him.
Meanwhile he leaves Griff absolutely seething when he tells him there's no chance he'll be getting a reduced sentence. In prison there's not much that he can do, but should he ever get out Spider is a marked man.
Source: Read Full Article