GMB hit with over 300 Ofcom complaints after Richard Madeley slavery row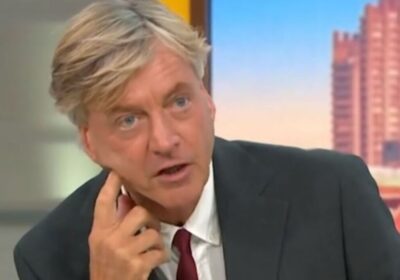 Guyana President says descendants of slavers should pay reparations
Good Morning Britain has been hit with over 300 Ofcom complaints following Richard Madeley's fiery rant on slavery.
TV watchdog Ofcom confirmed the ITV show received 334 complaints, which were related to Richard's interview with the President of Guyana, and their discussion of repatriations.
During the show, which aired on September 20, Richard banged his hands on the table after the president argued that descendants of European slave traders should offer to pay reparations to right historical wrongs.
Richard stated: "Why should somebody who maybe had an ancestor seven or eight generations ago, long before they were a twinkle in their great-great-great grandparents' eye, why should they have to pay now for what an ancient ancestor did?
"Or why should they apologise for what an ancestor did centuries ago? Why should they still carry that burden?"
READ MORE Susanna Reid left red-faced after being caught eating breakfast in GMB blunder[LATEST]
Dr. Mohamed Irfaan Ali replied: "Oh, it's not a burden at all – you are one of the beneficiaries of that slave trade.
"You should be concerned and you should pay because you, today, are still benefitting from the greatest indignity to a human being and that is the slave trade."
Later on in the interview, the GMB host said: "One of the points you've been making today is about our Royal Family.
"And you feel that it's not just about the finances involved here in terms of reparations for slavery."
Don't miss…
Richard Madeley infuriates GMB viewers with 'insensitive' comments[REACTION]
Susanna Reid abruptly ends sex symbol debate after guest's Joan Collins' remark[VIDEO]
Richard Madeley reveals he was almost shot by police officer in 'nasty' moment[LATEST]
We use your sign-up to provide content in ways you've consented to and to improve our understanding of you. This may include adverts from us and 3rd parties based on our understanding. You can unsubscribe at any time. More info
However, Richard was overcome with emotion which led him to bang his hands on the GMB desk. 
"It's about the gestures," he fumed. "And you think that the British Royal Family should make a big gesture, don't you? What do you mean? Hand over a palace to your country?"
"Well no, we don't want the British to hand over a palace that we built," the president replied.
The interview left viewers divided and while some agreed with Richard's stance on the subject, others told the host he needed to "calm down".
On viewer fumed: " #GMB Just watching Richard Madeley, getting very stupidly animated about almost anything & everything. Please calm down, & take a leaf from Susanna's book mate! Watch your blood pressure!!" (sic)
Another echoed: "When Madeley gets handed his a*** he bottles it because he can't cope #gmb."
However, a third viewer agreed with Richard, tweeting: "Where does this argument end? What the Germans did to the Jews in the war? Do they owe compensation to the Jewish relatives? The list goes on this is [a] ridiculous argument." (sic)
Good Morning Britain airs weekdays at 6am on ITV.
Source: Read Full Article