Ginny and Georgia cast: Who is Felix Mallard?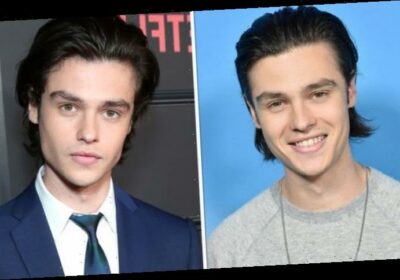 Ginny & Georgia: Brianne Howey and Antonia Gentry star in trailer
When you subscribe we will use the information you provide to send you these newsletters.Sometimes they'll include recommendations for other related newsletters or services we offer.Our Privacy Notice explains more about how we use your data, and your rights.You can unsubscribe at any time.
Ginny and Georgia has just arrived on Netflix and the young adult series follows 15-year-old Ginny (played by Antonia Gentry) and her 30-year-old mother Georgia (Brianne Howey). Georgia moves her family to New England to build a fresh life and their neighbours are intrigued by their arrival. Felix Mallard plays Marcus in the series and fans are keen to find out more about him.
Who is Felix Mallard?
The character Marcus is one of the residents in Ginny and Georgia's neighbourhood and he is considered to be the bad boy.
He has a sister called Maxine (Sara Waisglass) and they live with their mother Ellen (Jennifer Robertson).
Marcus develops an interest in Ginny, who is also described as outgoing and outspoken.
Actor Felix Mallard is a 22-year-old star from Australia, who is also a well-known musician and model.
He is also known for his role as Ben Kirk in the soap Neighbours – a role he played for four years between 2014 and 2018.
Neighbours was his first-ever TV role and it happened to be one of his most successful jobs.
Having left the soap he went on to star in Happy Together as main character Cooper James.
Fans may also recognise him from the Netflix series Locke & Key, in which he played Lucas Caravaggio.
He took on the recurring role as Marcus in Ginny and Georgia in 2020, and he also plays the recurring character Aiden in Zoey's Extraordinary Playlist.
He was born in Melbourne and has a sister, and through his childhood he developed a love for sport.
Mallard is an experienced fencer and is a bronze medal-winning sportsman, having competed at national level.
The all-round talented star is also a model and guitarist for the punk rock group Enemies Alike.
Mallard spoke to Entertainment Studios about his latest role in Ginny and Georgia, and he said his character's relationship with Ginny is complex.
He said: "Between Ginny and Marcus I think you are really going to have to watch to find out a lot of it, there's a line of setting up a bit of antagonism between the two art the start, and seeing where that goes.
"I think Marcus obviously keeps people at arm's length as much as possible until he realises he will let them in."
DON'T MISS…
Bridgerton season 2: Will Ben Miller return as Lord Featherington? [INSIGHT]
Does Lucifer come back to Earth in season 5? [EXPLAINER]
What is astral projection in Behind Her Eyes? [INSIGHT]
One of the star's most notable roles was that in Happy Together, as he played the character inspired by One Direction star Harry Styles.
The series was based on the young pop star's life as he rose to fame as an up-and-coming singer.
Mallard spoke on The Late Late Show with James Corden about getting the call from Harry Styles about the role.
He said: "I was expecting a call from Ben, our executive producer, so I was sitting around waiting for that.
"All of a sudden the phone rings and an unknown number pops up, and I hear, 'Hi, this is Harry, we really liked your stuff and we hope you come on board'."
The series was inspired by the popstar's time living with TV producer Ben Winston.
Fans took to Twitter to discuss the star in his latest role, with one saying: "Looking forward to Ginny and Georgia. Have enjoyed Felix Mallard since his Neighbours days."
Another said: "I will sadly still be streaming Ginny and Georgia and doing it only for Felix Mallard."
The actor posted the trailer for the series on Instagram and praised the rest of the ensemble cast for their incredible performance.
He has been excited for fans to meet his new character Marcus and they have certainly enjoyed his latest role.
Ginny and Georgia is streaming on Netflix now
Source: Read Full Article