Gemma Collins leaves GBBO fans in stitches as she flirts up a storm with Paul Hollywood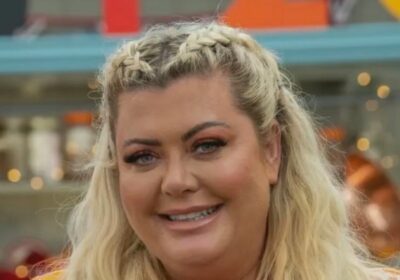 Fans tuning into the Great British Bake Off' s Celebrity special were left in stitches on Sunday night, as Gemma Collins couldn't stop herself from flirting with judge Paul Hollywood.
The TOWIE favourite was taking part in the star studded edition of the popular Channel 4 baking show in order to raise money for Stand Up To Cancer, but it wasn't just her bakes she was hoping to win over Paul with – it was her smooth one liners too.
Dressed to impress in a pretty pink floral dress, the 42 year old star made sure to keep her makeup on point as she kicked off the competition with a two-tier hot pink cake adorned with sparkles.
Speaking to the camera as the competition got underway, Gemma admitted that she was excited to meet Paul, but revealed that it was difficult to focus with her idol so close by.
"The thought of seeing Paul Hollywood is really exciting but I am just going to stay focussed," she proudly declared, before going on to discuss the "depth" of her sponge and explaining how she'd been a keen fan of Paul for several years.
With her cake successfully made, Gemma than flavoured it with roses, in what she described as a "symbol of her love for Paul Hollywood."
And for her efforts, it certainly seemed to have attracted the attention of the pro baker, who later described the creation as "fascinating" before giving the treat a taste.
"That is the most beautiful thing anyone's ever said to me," declared Gemma.
"He told me it was fascinating he liked my cake!"
As the banter continued between the pair, even the official Twitter account for the GBBO weighed in on the rapport between the two, as it cheekily posted: "Spare a thought for @PaulHollywood right now…"
Fans also couldn't hide their amusement at the ongoing exchange, as one penned: "Gemma's reactions to Paul are hilarious."
Another also added : "Imagine having the confidence of Gemma Collins…"
A third commented: "Gemma describing what cake she be making and she fancies Paul."
Before a fourth weighed in and wrote: "Living for Gemma's attempt at a cake. It looks and probably also tastes like a bath bomb."
Despite her flirty banter and the clear effort that went into her bake, sadly Gemma was not the final winner of this week's show as it was comedian Jessica Hynes who secured the coveted Star Baker win after impressing the judges with her bonfire themed choir buns.
READ MORE:
Source: Read Full Article