Fox Scores Best NFL Week 3 Audience As Chiefs Defeat Bears At Home Game Attended By Taylor Swift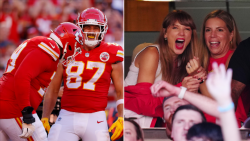 The Kansas City Chiefs were the talk of the town this weekend, for more reasons than one.
The 4:25 ET game window on Fox was the most-watched of the week, with the majority of markets getting a front row seat to the team's stunning 41-10 defeat of the Chicago Bears. Well, and Taylor Swift's appearance at Arrowhead Stadium following rumors swirling about her connection to Chiefs tight end Travis Kelce.
Meanwhile, just over 30% of markets watched the Cowboys lose to the Cardinals. In all, Fox drew 24.32M viewers for the Sunday late afternoon matchups, which is down about a million from the most-watched game last week as well as from the same Week 3 time slot last year, when 24.4M people tuned in to watch Aaron Rodgers and Tom Brady go head-to-head in the Packers-Buccaneers game.
Related Stories
Breaking News
'Taylor Swift: Eras Tour' Concert Movie Now Getting Global Theatrical Release
Premiere Dates
2023 Premiere Dates For New & Returning Series On Broadcast, Cable & Streaming
Earlier in the day, Fox managed 12.21M viewers for the early Sunday game, which was the Packers-Saints in most markets.
NBC's Sunday Night Football broadcast of the Las Vegas Raiders vs. the Pittsburgh Steelers came in second place for Week 3 viewership with 19.21M people tuning in. That's a nice lift from last week, when the SNF audience had declined pretty steeply from Week 1.
While CBS can't claim the biggest audience this week, the broadcaster still took home a pretty significant win with the Patriots-Jets matchup becoming the most-watched September single-header broadcast for the network in 12 years.
The game drew an audience of 17.5M, which is up 19% over last season's Week 3 telecast. It also helped boost CBS to an average of 18.7M viewers across the first three regular season games, which is the network's best September NFL audience in more than a decade.
Monday night also proved fruitful for the Disney-owned networks. ABC (combined with ESPN+ and NFL+) drew 13.7M viewers for the Eagles-Buccaneers game and ESPN (along with ESPN2 and ESPN Deportes) notched 9M for the Rams-Bengals matchup.
After the Eagles vs. Buccaneers kicked things off, the two games ended up overlapping for about two hours. During that time frame, both games averaged a combined 22M viewers.
Prime Video ushered in Week 3 with a pretty nice audience of nearly 14M for the Giants-49ers. That's a 26% increase over last year's comparable Thursday Night Football matchup, as TNF is up overall this season compared to last.
Must Read Stories
WGA Strike Officially Ending As Guild Leaders Approve Tentative Deal With Big Gains
SAG-AFTRA & Studios Could Return To Negotiating Table Within Days
Kasia Smutniak Leaves Safety Of Soundstage To Make A Border-Crisis Pic
Fox News' Dana Perino On Another Trump-Less GOP Debate & More
Read More About:
Source: Read Full Article