Four in a Bed viewers fume over 'ridiculous' breakfast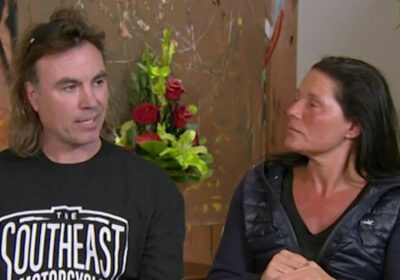 Four in a Bed: Hosts go through their BnB scores
During the latest episode of Channel 4's Four in a Bed, four new hoteliers began their week showing off their properties and the services they provided. Up first on Monday afternoon were Carol and Matt who owned Railway Hotel Apartments in Gloucestershire. However, viewers were left furious at the scores being given for breakfast when the guests were sent out of the hotel to a restaurant, having to pay extra on top of their stay.
Introducing themselves to the show, Carol and Matt explained their apartments were self-catering and the prices were for a two-night stay minimum.
Arriving first were friends and colleagues Beth and Rupi, whose room cost them £250 per night without breakfast.
Second to arrive at the apartments was couple Tom and Angela, with husband and wife Kerry and Jonathan shortly arriving after.
Both couple's rooms were set at £160 per night, leaving them to their own devices and exploring how kept the rooms were.
After taking their guests out for a tree tour, it was time for some shut-eye, but Tom and Angela had to call Matt into their room because the temperature was too hot for them to handle.
The next morning, instead of having a breakfast hamper or a cooked breakfast on-site, the three pairings were sent across the road to a restaurant which serves their cooked breakfasts.
Matt explained the reasoning for sending the couples to the restaurant and said: "Being self-catering a lot of people don't want breakfast, they just want somewhere to sleep.
"We know that they do a good breakfast and it tends to be where the majority of our customers go so they should enjoy that."
Whilst Beth and Rupi and Kerry and Jonathan were happy to do so, Tom and Angela admitted that they preferred being able to walk down from their room and eat within the site of the hotel.
Angela said: "I stayed in self-catering before where they have left a really nice basket where they left some fresh bread and some jams, so you feel automatically welcome.
"I always think you anticipate a guest's needs before you think about it. I still like the luxury of walking down the stairs, into a place to eat, i.e a hotel that serves breakfast."
After filling up on breakfast, it was time for the guests to rate what they thought of their stay, with all three couples scoring highly on the breakfast category.
Tom and Angela scored their breakfast a nine and commented: "Well-appointed kitchen, would prefer some basic breakfast items for arrival."
Don't miss…
Paul O'Grady's friend Linda Thorson details star's final moments [INSIGHT]
Death in Paradise's Ralf Little confirms future as Neville Parker [LATEST]
Alan Titchmarsh breaks down in tears over Doc Martin during interview[WATCH]
Beth and Rupi awarded the breakfast a 10 and explained they liked that the restaurant was on the doorstop and there was a good range of food on the menu.
However, viewers of the show were left furious by their scores with some suggesting the category should be "null and void" as Matt and Carol did not provide it.
@Tonguetwisteruk stated: "#fourinabed You can't give them any marks for breakfast."
@AgathaCrisply commented: "Great, we got a ten even though we don't supply it. FFS. #fourinabed."(sic)
@swilliams73 expressed: "I'll say it again, breakfast scores should be null and void when it's not provided by the hosts, but that doesn't seem to matter anymore these days. This programme has certainly had its day if they think this is acceptable. Shame #fourinabed."
@PenfoldCrumb added: "10 for non-existent breakfast #fourinabed."
Ade Mitchell said: "Should be 0 for breakfast! #fourinabed."
@Crazier fumed: "#fourinabed These idiots that keep giving top marks for breakfast when the hosts didn't even make it. They're having to pay for a restaurant breakfast on top of the ridiculous price per night!" (sic)
Four in a Bed airs weekdays from 5pm on Channel 4.
Source: Read Full Article