Fiona Bruce 'hung out to dry' by BBC after being forced to stand down from charity role over her domestic abuse remark | The Sun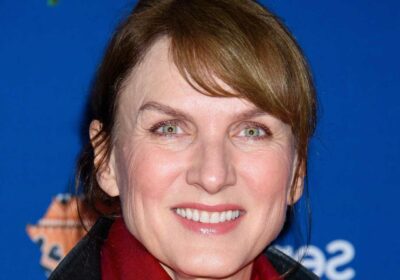 FIONA Bruce has been "hung out to dry" by the BBC after she was forced to stand down from her role with a domestic abuse charity, friends have claimed.
The Question Time presenter is stepping back from her role as an ambassador for Refuge after remarks she made during a discussion about Boris Johnson's father Stanley on the show last Thursday.
Fiona was engulfed in a row over Stanley, who was branded a "wife beater" on the show.
Journalist and panel member Yasmin Alibhai-Brown said his alleged history of violence was "on the record".
But Fiona interrupted, telling the audience on Thursday: "I'm not disputing what you're saying, but just so everyone knows what this is referring to Stanley Johnson's wife spoke to a journalist, Tom Bower.
"She said Stanley Johnson had broken her nose and she had ended up in hospital as a result.
Read More TV
BBC sitcom AXED after just one season
EastEnders favourite sets up ONLYFANS account amid cost of living crisis
"Stanley Johnson has not commented publicly on that. Friends of his have said it did happen, it was a one off."
Now Fiona's friends have told the Telegraph that she is "devastated" after she was "hung out to dry" by BBC producers, who allegedly told her to challenge potentially defamatory allegations made on-air against Stanley Johnson.
Most read in The Sun
BBC sitcom AXED after just one season
Shamed star Gary Glitter sent back to jail just a month after release
Teacher 'murdered partner then wrote "chilling" confession about alter ego'
'Deeply in love' couple, 19 & 20, found dead cradling each other after vanishing
Good Morning Britain star Susanna Reid also said that the backlash against Fiona was "outrageous".
She said: "Yasmin, as you saw in that clip, then pointed out the allegation that was made about Stanley Johnson.
"It was incumbent on Fiona Bruce, as the host of that panel, to as she says, contextualise it.
"She very clearly says in that clip that she is contextualising it and giving the right of reply. She wasn't arguing with Yasmin Alibhai-Brown.
"I think it's outrageous that she is being held personally accountable."
Fiona announced yesterday that she has stepped down from her role as an ambassador for Refuge.
She said: "It is with real sadness that I have decided to step back from my role as an ambassador for the domestic abuse charity Refuge.
"Last week on Question Time, I was required to legally contextualise a question about Stanley Johnson.
"Those words have been taken as an expression of my own opinions which they are absolutely not, and as a minimising of domestic abuse, which I would never do.
"I know survivors of domestic abuse have been distressed by what I was required to say on-air.
"For that, I am deeply sorry. I cannot change what I was required to say, but I can apologise for the very real impact that I can see it has had."
The presenter, who has worked with Refuge for 25 years, added: "The only people that matter in all this are the survivors, they are my priority.
"The last thing in the world that I would want is that this issue in any way creates a distraction from Refuge's critical work on their behalf, and therefore I think the right thing to do is to step back from my role with Refuge.
"This has been a hard decision for me as I feel so strongly about promoting their work and advancing awareness of this issue. I will continue to be an active supporter, albeit from the sidelines for now."
I think it's outrageous that she is being held personally accountable
Refuge thanked Fiona for her "considerable contribution" but acknowledged that while the words she used were not her own, they had "minimised the seriousness of domestic abuse".
The charity said: "Refuge's position was, and remains, clear – domestic abuse is never a 'one-off', it is a pattern of behaviour that can manifest in a number of ways, including but not limited to physical abuse.
"Survivors of domestic abuse are, and will always be, Refuge's priority."
Fiona's remark came amid fury ex-PM Boris was putting his dad up for a knighthood in his resignation honours list.
Labour MP Kate Osborne and chief executive of Women's Aid Farah Nazeer accused her of downplaying the seriousness of domestic abuse.
Ms Osborne said: "International Women's Day this week and Fiona Bruce trivialises violence against women. Disgraceful."
While Ms Nazeer said Women's Aid was "shocked" by Fiona's response and called it "unnecessary and irresponsible".
She added: "We know at Women's Aid that domestic abuse is rarely, if ever, a 'one-off', with the vast majority of abuse being a pattern of behaviour that includes different forms of abuse.
Read More on The Sun
Dumped Love Islanders mobbed by fans as they land in UK after missing final
I took my fluffy doodle to groomers – but he came back looking like Pennywise
"Even if abuse is an isolated event, it would have still been domestic abuse, and this should never be minimised."
How you can get help
Women's Aid has this advice for victims and their families:
Always keep your phone nearby.
Get in touch with charities for help, including the Women's Aid live chat helpline and services such as SupportLine.
If you are in danger, call 999.
Familiarise yourself with the Silent Solution, reporting abuse without speaking down the phone, instead dialing "55".
Always keep some money on you, including change for a pay phone or bus fare.
If you suspect your partner is about to attack you, try to go to a lower-risk area of the house – for example, where there is a way out and access to a telephone.
Avoid the kitchen and garage, where there are likely to be knives or other weapons. Avoid rooms where you might become trapped, such as the bathroom, or where you might be shut into a cupboard or other small space.
If you are a ­victim of domestic abuse, SupportLine is open Tuesday, Wednesday and Thursday from 6pm to 8pm on 01708 765200. The charity's email support ­service is open weekdays and weekends during the crisis – [email protected]
Women's Aid provides a live chat service – available weekdays from 8am-6pm and weekends 10am-6pm.
You can also call the freephone 24-hour ­National Domestic Abuse Helpline on 0808 2000 247.
Source: Read Full Article