FBI Most Wanted teases Remy's death in season 4 promo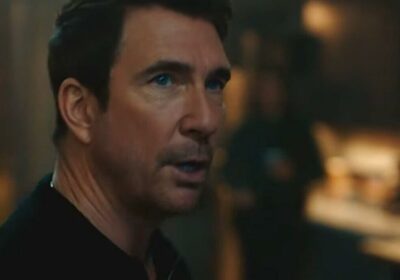 FBI: Most Wanted: CBS release 'Wanted: America' teaser
We use your sign-up to provide content in ways you've consented to and to improve our understanding of you. This may include adverts from us and 3rd parties based on our understanding. You can unsubscribe at any time. More info
The FBI franchise is returning with three new episodes next week after the latest intense triple bill this Tuesday. On the popular spin-off FBI: Most Wanted, Remy Scott (played by Dylan McDermott) will tackle one of his toughest cases yet when a rising star athlete is horrifically murdered next time on the hit CBS drama.
Remy and his team face certain danger when they investigate another grisly killing in the next episode of FBI: Most Wanted.
The series could even lose another Supervisory Special Agent if the team leader isn't careful during what could be a tense shootout.
Most Wanted has remained a smash hit for CBS after McDermott took over Jess LaCroix (Julian McMahon) in the third season.
However, the new team leader's time on the series could also already be running out.
A brand new promo sees Remy taking to the woods with armed agents in season four, episode 14, Wanted: America.
A synopsis reads: "When a rising star triathlete is found violently murdered, the team chases after one of her teammates and his girlfriend.
"Also, Remy reunites with a true crime show producer from his past."
Their prime suspects are already a cause for alarm as the triathletes could be strong enough to overpower the agents if things come to blows.
Footage reveals a victim being horrifically stabbed in the shower before cutting to the team looking over evidence from the crime scene.
"She was stabbed over 20 times," Remy explained. "Cut so deep they chipped bone."
Remy, Kristin Gaines (Alexa Davalos) and Sheryl Barnes (Roxy Sternberg) are clearly dealing with an unhinged and dangerous criminal, so they'll have to stay on their toes.
"This story has everything," the voiceover says as more scenes of the victim play out.
DON'T MISS:
Magnum PI's Jay Hernandez turned down 'intimidating' role [INTERVIEW]
Bridgerton corsets 'banned' after health and safety complaints [NEWS]
House of the Dragon's Ser Qarl 'alive' as season 2 return teased [EXCLUSIVE]
"Sushi, sex, a middle-aged woman out for blood."
The middle-aged woman in question seems to appear when Remy and his team grab their rifles and spread out to find her.
As Remy races into action, an unknown assailant gets him in her sights with a powerful sniper rifle.
Although the promo ends before she pulls the trigger, the suspect will undoubtedly do anything she can to ensure she gets away from the FBI scot-free.
If Remy doesn't take aim in time, his story could come to an end bleeding out in the woods while he waits desperately for his fellow agents to come to his aid.
While nothing has been confirmed regarding McDermott's exit from the series just yet, shows like FBI aren't afraid of throwing fans shocking twists out of nowhere.
Remy could also be taken out of action for a while if the suspect's shot misses his vitals but leaves him seriously injured.
Hopefully, this is another fight he'll make it out of alive, but viewers are certain to be watching this episode on the edge of their seats until Remy's survival is ensured.
FBI: Most Wanted season 4 continues Tuesdays on CBS in the USA. A UK release date is yet to be announced.
Source: Read Full Article