'Eternals' Energizes Box Office With $71 Million Opening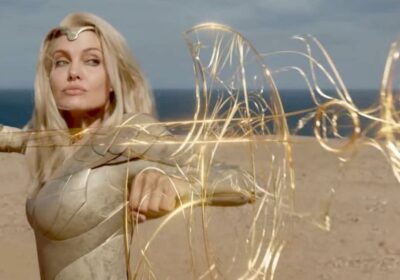 Chloe Zhao's blockbuster sits among the top 5 openings of the year, but faces weakest reception in MCU history
Photo: Marvel Studios
There's good news and bad news for Marvel Studios' "Eternals." The good news is that despite having the weakest reviews in franchise history, the Chloe Zhao blockbuster has posted a strong opening weekend of $71 million from 4,090 locations.
It's a few notches down from the $75.8 million 3-day opening for "Shang-Chi and the Legend of the Ten Rings," but "Eternals" sits just above the $70 million opening of "F9" to stand as the fourth-highest opening weekend this year. It also is enough to push overall grosses back above $100 million for the fourth time since the start of October, a benchmark theaters are hoping to consistently clear as they aim to make Q4 2021 the first profitable quarter for exhibitors since the pandemic began.
The bad news, of course, is the reception. Along with a 48% critics score and 81% audience score on Rotten Tomatoes, "Eternals" is the first Marvel Cinematic Universe film to see its CinemaScore grade sink to a B. The previous franchise-low was a B+ for "Thor" in 2011, a grade that was also earned by "Venom: Let There Be Carnage" and "The Suicide Squad" this year.
While "Venom: Let There Be Carnage" legged out well last month, "The Suicide Squad" failed to draw in audiences outside of hardcore DC fans and saw sharp drops in subsequent weekends. As with all superhero films, it was the diehards that turned out for "Eternals" this weekend; but the tepid audience reception could spell problems next weekend if the turnout from the wider moviegoer base that has pushed Marvel to astronomical box office heights decides to skip this time around.
In second is Warner Bros./Legendary's "Dune," which added $7.6 million in its third weekend for a running domestic total of just under $84 million. MGM's "No Time to Die" is in third with $6.1 million, bringing the Bond film's total to $143 million domestic and $667 million worldwide, $54 million shy of the $721 million total earned by "F9" earlier this year.
"Venom: Let There Be Carnage" is in fourth with $4.4 million and a domestic total of $197 million, putting it $9 million shy of the domestic total earned by Sony's last big hit, "Bad Boys For Life" just before the pandemic hit in early 2020. Overseas, the film added $11.4 million from 54 markets to bring its total to $424.6 million.
More to come…
Source: Read Full Article