'Eternals' Charts Course for $70 Million Box Office Opening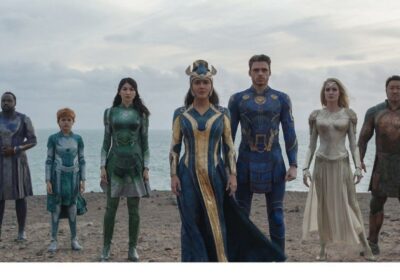 Chloe Zhao's superhero film earned a B from audiences on CinemaScore, the lowest in MCU history
Courtesy of Marvel Studios
Marvel Studios' "Eternals" opened to a $30.7 million launch from 4,090 locations on Friday, putting it on course for an opening weekend of $70-75 million, according to Disney estimates.
By comparison, fellow 2021 Marvel title "Black Widow" opened to $80 million in July after a $39.5 million Friday while "Shang-Chi and the Legend of the Ten Rings" opened to $75.8 million in September after a $29.5 million Friday. "Shang-Chi" was able to blow past industry estimates thanks to a strong Sunday hold, leading into a Monday Labor Day performance that pushed the film to a holiday record $94.6 million 4-day opening.
But while "Shang-Chi" was able to do that thanks to strong reception from critics and audiences, "Eternals" is facing much more mixed reception, hence the lower estimates from industry sources. Along with a 49% critics score on Rotten Tomatoes, "Eternals" now has a B on CinemaScore, both being the lowest ever for the Marvel Cinematic Universe as the previous low on CinemaScore was a B+ for "Thor" in 2011. It's also below the B+ received by comic book movies like "Venom: There Will Be Carnage" and "The Suicide Squad" earlier this year.
Such lukewarm word-of-mouth is likely to have an impact on how "Eternals" performs in the coming weekends, but if that impact is more immediate and causes a sharper Friday-to-Saturday drop than what studio and industry estimates are predicting, the final opening weekend total could fall into the $60 million range.
While these results are all below the high bar Marvel has set for itself even during this COVID-stricken period, "Eternals" is still a big boost to theaters riding high after an October where domestic grosses reached $638 million. Thanks to "Eternals," overall weekend grosses are set to rise above $100 million again after doing so for the first three weekends of last month. It is also a film that is released only in theaters, a move that Disney made for all its releases after "Shang-Chi" became the first film this year to gross more than $200 million in North America as a theatrical exclusive title.
Holdovers fill up the rest of the top 5, with Warner Bros./Legendary's "Dune" in second with an industry estimated $7 million grossed in its third weekend, bringing its domestic total to $83 million after it crossed $300 million worldwide early this past week. That makes the film the highest grossing ever for director Denis Villeneuve, passing the $259 million grossed by "Blade Runner 2049" four years ago.
MGM's "No Time to Die" is third with an industry estimated $5.7 million grossed in its fifth weekend, bringing its domestic total to $142 million after it crossed $600 million worldwide last weekend. Sony's "Venom: Let There Be Carnage" is in fourth with $4.1 million in its sixth weekend, inching it closer to the $200 million mark with $196 million grossed domestically while continuing to roll out overseas.
More to come…
Source: Read Full Article