Erik Lomis Dies: Veteran MGM Distribution Chief Was 64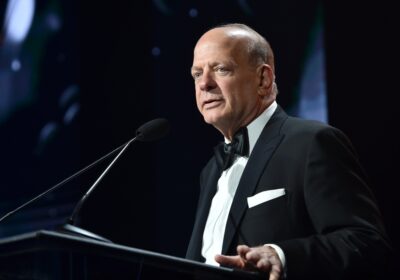 Extremely devastating news: MGM and United Artists Releasing distribution boss Erik Lomis died suddenly Wednesday at his home in Santa Monica, we have learned from sources. No details were provided in regards to his death. He was 64.
Lomis was a towering figure behind many filmmakers' hits including those from Quentin Tarantino, Paul Thomas Anderson, Adam McKay, Sylvester Stallone, Ryan Coogler, David O. Russell, Lee Daniels and Tom Hooper to name a few, and most recently Michael B. Jordan with Creed III.
In the wake of Amazon's purchase of MGM, Lomis, who made the jump, becoming an entrusted consigliere to Amazon Studios head Jennifer Salke as the streamer looks to capitalize on more big-screen hits.
Lomis gave Amazon a big taste of the box office with its first theatrical hit Creed III, which opened to more than $100 million worldwide and is currently grossing to $225M-plus at the global box office. It was Lomis' bold decision to move Creed III out of Thanksgiving and put it in March, where the boxing pic would be away from Black Panther: Wakanda Forever and have access to premium screens. The success of that rescheduling maneuver speaks for itself. Lomis will be greatly missed by many.
Related Story
Hollywood & Media Deaths In 2023: Photo Gallery & Obituaries
Lomis recently championed Amazon to move Ben Affleck and Matt Damon's first feature under their Artists Equity label, Air, from Prime Video to an Easter Weekend theatrical release after it tested through the roof. There is already heat on that movie after its splashy SXSW premiere last week.
"I don't think the industry will realize until a couple of months from now how Erik Lomis was George Bailey," said EDO box office analytics partner Derek McLay, a lieutenant of Lomis' during the distribution exec's early MGM 2000s days. "He was so many things to so many people that he touched and did quietly, and he's intertwined in everything we do."
During his career, Lomis led MGM's distribution two different times, overseeing several James Bond releases and becoming a valued advisor to the franchise's producers Barbara Broccoli and Michael G. Wilson. Last fall, Lomis hosted and was a key organizer of Broccoli and Wilson's Will Rogers Pioneer Award tribute.
A fierce believer in the theatrical business at all costs, Lomis safeguarded Daniel Craig's 007 swan song, No Time to Die, during the pandemic from begin relegated to a Premium VOD or streaming day-and-date release when many of the world's circuits were closed. He was the first to see how Covid would impact the entire business back in March 2020, delaying No Time to Die's theatrical release from Easter that year to ultimately October 2021. Lomis, in holding to his guns, made sure that No Time to Die had a big-screen release; the movie wound up doing more than $774 million worldwide, one of the highest-grossing pics during the pandemic era.
UAR/MGM recently had the Oscar-nominated Best Picture and Adapted Screenplay winner Women Talking from Sarah Polley.
Lomis was highly respected, not just among exhibition, but among filmmakers and rival distribution heads as well for his razor-sharp, blunt take on the business, keen distribution strategies, and smart box office prognostications. It wasn't uncommon for filmmakers' agents to dial in with Lomis on a weekend for his assessment, even though their client may not have had a movie at his studio. Among the notable distribution chiefs Lomis mentored during their early days are Lionsgate Domestic Distribution President David Spitz, Paramount Domestic Distribution President Chris Aronson and Universal Domestic Distribution Boss Jim Orr; and also McLay who runs Edward Norton's box office analytics company EDO.
Lomis grew up in the exhibition biz, learning from the ground-up as a movie theatre usher in Philadelphia. His father, Irv Lomis, worked for the Philly circuit Sameric Corp. Lomis grew to be the head buyer at Sameric. United Artists Theatres, then the nation's largest theater chain, would eventually takeover Sameric and Lomis would go on to be their head of the national film department.
During Lomis' early millennial run at MGM, her served as President of Worldwide Theatrical Distribution, Home Entertainment & Acquisitions. While there, he oversaw domestic theatrical distribution as well as the marketing and distribution of MGM's international theatrical, home entertainment and acquisitions titles. He had been a prominent executive and consultant at MGM for over 15 years then. As president of domestic distribution from 2000-2005, he was a part of the greenlight committee and oversaw distribution for Legally Blonde, Barbershop and four of the James Bond films including Goldeneye, Tomorrow Never Dies, The World Is Not Enough and Die Another Day.
In 2011, Lomis was hired by Weinstein Co. as their Distribution President where amassed more than $1.5 billion at the domestic box office for the label. He catapulted the studio's genre and awards-worthy fare to great heights including Tarantino's Django Unchained ($162.8M, $426M WW) and Inglourious Basterds ($120.5M, $321.4M), Tom Hooper's The King's Speech ($138.7M, $484M WW), David O. Russell's Silver Linings Playbook ($132M domestic, $236M WW), Lee Daniels' The Butler ($116.6M domestic, $177.3M WW) and the Oscar winner The Imitation Game ($91M domestic, $233.5M WW). Lomis would later take on additional duties marketing duties at the studio. One of his last triumphs at TWC was masterminding the rollout of Quentin Tarantino's The Hateful Eight in 70MM for the filmmaker, snapping up dormant projectors and getting them into theaters. In one instance during the Westwood LA premiere of Hateful Eight, Lomis rolled up his sleeves and headed up to the projection booth to resuscitate a problematic projector.
In March 2016, Lomis would depart Weinstein Co. for Megan Ellison's Annapurna as she was building out a distribution and marketing division to her studio. Annapurna would enter into a joint venture distribution and marketing operation with MGM, called United Artists Releasing, which Lomis ultimately led into its absorption by Amazon. Lomis released such Annapurna movies as Adam McKay's Oscar winning comedy Vice about former Vice President Dick Cheney and Kathryn Bigelow's Detroit, and with UAR, the animated feature The Addams Family which made over $204M WW, Ridley Scott's House of Gucci ($153M WW), the Anne Hathaway-Rebel Wilson comedy The Hustle ($97M WW), Channing Tatum's Dog ($85M WW), Paul Thomas Anderson's 3x Oscar nominated Licorice Pizza ($33M WW) which was a bright spot for arthouses during Covid, and the Dwayne Johnson produced, Florence Pugh starring Fighting With My Family ($42M WW) as well as the award lauded Aretha Franklin biopic, Respect, starring Jennifer Hudson. And of course there was the Rocky spinoff Creed franchise which has grossed over $612M WW.
Lomis is survived by his wife, Lionsgate President of Legal and Business Affairs, Patricia Laucella; his children, Natalia Jovovich, Nicole Rose Lomis and Zach Lomis; his stepmother, Joanne Lomis; sister, Sandy McGuigan; and brother Charles Lomis.
More….
Must Read Stories
DA Drops Domestic Violence Charges 'Rick And Morty' Co-Creator Justin Roiland
Destry Allyn Spielberg's Sets Directing Debut With Genre Pic Starring Michelle Dockery
Stephanie Sperber Named President & CCO As Toon Company Expands Into Live-Action
'Smash' Musical Heading To Stage With Steven Spielberg Among Producers
Read More About:
Source: Read Full Article