Emmerdale theory – Leyla embarks on affair with Suzy after betrayal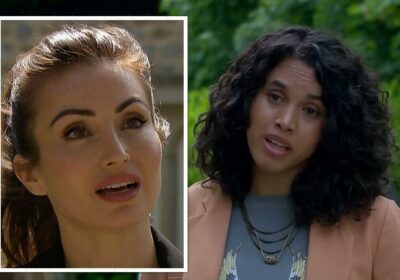 Emmerdale: Leyla walks out on Liam
We use your sign-up to provide content in ways you've consented to and to improve our understanding of you. This may include adverts from us and 3rd parties based on our understanding. You can unsubscribe at any time. More info
Leyla Harding (played by Roxy Shahidi) had been waiting for Liam Cavanagh (Jonny McPherson) to come clean about sharing a kiss with Bernice Blackstock (Samantha Giles) on Emmerdale. In tense scenes on Wednesday evening, Leyla finally revealed she knew about his adultery and he was profusely apologetic. However, will Leyla use this as an opportunity to make a move on Suzy Merton (Martelle Edinborough) who has been comforting her?
During the latest instalment of the serial drama, a concerned Suzy asked Leyla how she was and thought she looked very well.
She offered to join Leyla on a walk around the village so they could catch up properly.
Leyla agreed and eventually opened up to Suzy about Liam's recent betrayal.
"He did something the other day," Leyla began. "He kissed Bernice."
Suzy branded Liam an idiot before Leyla replied: "Anyone would be tempted to when they are stuck with the likes of me."
Suzy reassured Leyla: "That's nonsense, it's his fault he's kissed someone else, not yours."
As they were in mid-discussion Liam entered the scene and asked to speak to Leyla alone about his kiss with his former flame.
He apologised and wanted to explain what happened between him and Bernice in the privacy of their own home.
Later on, Liam told his wife he was "so sorry" but she did not seem convinced by his apology.
"I am entitled to handle this any way I choose," she snapped at Liam as he tried to assure her he never meant to hurt her intentionally.
"I know it sounds like a feeble excuse, but it was genuinely a moment of madness," the remorseful doctor said.
Leyla then delivered an unexpected response and told her husband she "did not care" as she did not feel "anything".
"Do you want me to throw a vase at your head and for me to chuck all of your clothes on the lawn?" Leyla asked.
The recovering addict told Liam she did not have "any fight" left in her to react to his infidelity.
However, could the truth be that she has her sights set on another villager?
Does Leyla have romantic feelings towards Suzy who has been supporting her?
Suzy has been in an on-and-off relationship with Vanessa Woodfield (Michelle Hardwick), but could Leyla help her move on?
Liam would be left heartbroken if Leyla left him for someone else and might blame himself for kissing Bernice behind his wife's back in the first place.
Is there any chance of Leyla and Liam's marriage getting back on track, or are they best to go their separate ways?
Emmerdale airs on weeknights from 7.30pm on ITV.
Source: Read Full Article