Emmerdale star on whether Mack and Charity survive after baby reveal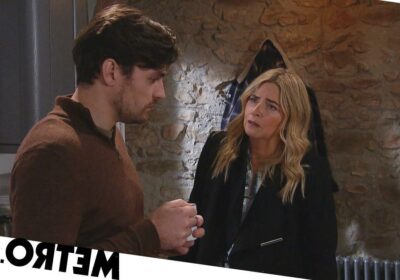 Mackenzie (Lawrence Robb) has been on a knife-edge since discovering that Chloe (Jessie Elland) is pregnant with his baby in Emmerdale – largely because he knows that if Charity (Emma Atkins) found out he'd been unfaithful to her, all hell would most likely break loose.
It's an unwavering rule of soap that no secret can stay secret for very long, and Mack knows that the time must surely be drawing near when Charity finds out that he's going to be a father – especially with Chloe now living under the same roof and Sarah (Katie Hill) starting to have her suspicions.
'He's trepidatious about the scenario that he's in,' is how Lawrence Robb described Mack's state of mind when he talked to us recently.
'He did really want to be a dad with Charity. He really loves Charity and now he is going to be a father, but it's just with the wrong person.'
Mackenzie has a lot on his mind currently, Lawrence explained. 'He's at a point now where he's engaged, he's going to plan a wedding. He's got a lot of things happening,' he told us. At the same time, Mack is also comfortable with the family situation around him and knows that could change in an instant if his secret was to come out.
'I think it's the downfall of the family dynamic that he's scared of,' Lawrence suggested. 'He really likes the environment that he's in and he likes the team dynamic that Noah (Jack Downham), Sarah, Moses (Arthur Cockroft), Charity all bring to the table. It's the fear of the loss of the life he's currently living that he's scared of the most.'
And, of course, the fear of losing Charity. His infidelity is one thing, but the knowledge that Chloe's baby is Mackenzie's is bound to be hard for Charity to deal with after losing the baby that she was expecting last year.
Could Charity forgive her fiancé if she knew the truth? Lawrence told us that it remains up in the air at the moment.
'I don't know whether Charity would forgive him or not,' he said. 'He definitely, in the coming weeks, will want to tell her. I think he gets quite close to doing so. But we'll wait and see how Charity reacts when she finds out, because I don't know what's going to happen. I really don't.
'You'll see over the next month and a half, I genuinely as the actor – as well as Mackenzie – don't know what is going to happen when Charity finds out.'
It sounds like sparks are set to fly, and Lawrence is enjoying the challenge of the twists and turns in the script.
'Oh it's so awkward!' he laughed. 'It is very fun to play. Everyone can feel the energy of it.'
But as to Charity"s likely reaction?
'No idea,' he admitted. ''She's so fiery. It could go anywhere, really.'
Source: Read Full Article