Emmerdale spoilers see Amba kidnap scare, Cathy secret exposed, Leyla exit twist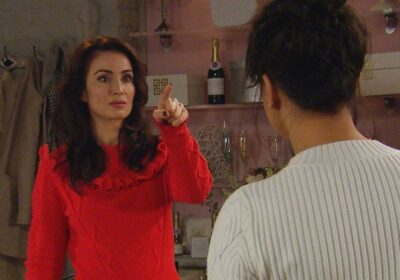 The drama in Emmerdale continues next week as Leyla is offered a job in London by a client named Justin.
After wanting to accept however, she is stunned when Priya reveals she has accepted the role within Justin's company, meaning she will be the one moving to London.
Taking matters into his own hands, David kidnaps Amba to prevent Priya from taking his daughter away before locking Leyla in a bathroom to prevent her from calling the police.
READ MORE: Emmerdale Paddy's fate 'sealed' – Mandy reunion, affair with familiar face and 'karma'
Elsewhere, Cathy upsets Bernice with comments about menopause and later smashes up her brother's guitar.
Bob hits breaking point with his daughter, but what is truly on her mind?
Leyla exit twist
At Take A Vow's event, Priya becomes helpless with fear when a veil catches alight from candles, but luckily a quick-thinking Leyla salvages the situation.
Back at the salon, Leyla is left shaken when a client, Justin, offers her a job with his London team.
At Holdgate, Manpreet and Jai try to comfort a distraught Priya as she relives her trauma.
Aware she needs to make a decision about the job, a tentative Leyla talks to Jacob about her offer, who pretends he doesn't care and slams the door in her face.
Owning up to what happened the day before, Priya explains her past trauma to Justin who invites her for a coffee.
After accepting the job offer over the phone, Leyla is left stunned when Priya reveals she's been offered the job with Justin's company.
Amba kidnap horror
Priya defends herself, explaining that she didn't even know Justin had offered Leyla the job; but Leyla accuses Priya of sabotage.
Unhappy about Priya's plan to move away for the new job with Amba, David is determined to take control.
Priya's world falls apart as she comes to the conclusion David has kidnapped Amba, while Jacob and Pollard desperately try to convince her not to call the police.
At the unknown cottage, David is surprised to find Leyla at the door and becomes in denial as she accuses him of running away from his problems.
Past the point of no return, David locks Leyla in the bathroom before she can call the police, but it seems Priya may have already made the call.
Will the police take David into custody?
Cathy secret exposed
In the cafe, Bernice tries to help Cathy with her revision but is left offended by the youngster's hurtful comments about menopause.
Bob hits breaking point as he confronts Cathy; but when Heath butts in, Cathy loses it and violently smashes his guitar on the floor.
The next day, Bob and Brenda receive a call from Cathy's school explaining she's run out of her mock exam.
Bernice clocks Cathy hurrying towards Connelton and is torn whether to tell Bob, sensing there's more to the situation.
Inside Connelton, Bernice catches Cathy washing her skirt in the sink.
Opening up a little, an overwhelmed Cathy feels ashamed of her heavy periods and explains this is the reason why she missed her exam.
A pensive Cathy is relieved and grateful for Bernice's support and promises to talk with Manpreet about ways to help manage her symptoms.
Cathy wants to tell her dad how she's feeling but instead she lies to get him off her case.
The next day, Cathy is honest with Manpreet about her heavy periods and is relieved when she writes her a prescription for the pill.
Bob informs Cathy that she can re-sit her mock exam, who is relieved to finally put an end to her nightmare as she swallows her first pill.
Elsewhere, Caleb makes it clear he is staying in the village, despite Cain's intimidation tactics.
Vinny is full of grief and anger as he lashes out at Paddy for not acknowledging his own heartbreak.
Meanwhile, Rishi is disappointed when he realises Priya never intended for him to come with her to London.
Gabby is thrilled to know the attraction is mutual between her and Nicky, but the nanny still refuses to cross that line.
For more of the latest showbiz news from Daily Star, make sure you sign up to one of our newsletters here.
READ NEXT:
Emmerdale icon unrecognisable in video explaining how to care for turf before soap fame

Emmerdale's Gabby 'long-lost brother' exposed as fans rumble shock DNA twist

Emmerdale's Mimi Slinger wows in teeny bikini as she soaks up the sun on tropical break
Source: Read Full Article