Emmerdale fans spot Al Chapman's blunder as Priya Sharma hacks into his bank account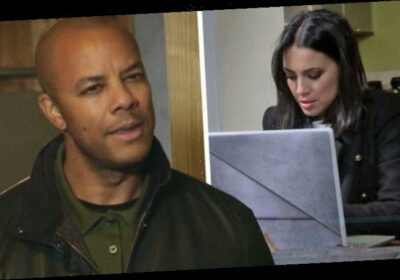 Emmerdale: Priya attempts to log into Al's account
Debbie Dingle (played by Charley Webb) and Priya Sharma (Fiona Wade) put their plan into action tonight and Emmerdale viewers tuned in to see the latter hack into Al Chapman's bank accounts and move his money. But some were less than impressed by how easy it was for the mother of one to attempt his password, especially considering how well the businessman has been two-timing her for the past 6 months.
After some convincing from Debbie, Priya decided she wanted to get revenge on Al.
Despite them being engaged, and Priya experiencing conflicting feelings, tonight, Emmerdale fans saw her steal his laptop.
The aim was to hack into his bank accounts, and empty them, as well as transfer money from the HOP work account he had access to, which in turn would aggravate Kim Tate (Claire King).
In one scene, Priya was seen struggling with the correct password, when she spotted one of Al's business cards peeping out from his bag.
We will use your email address only for sending you newsletters. Please see our Privacy Notice for details of your data protection rights.
Picking it up, she studied the information on it and decided to try entering 'Chapman&Fletcher' which tuned out to be correct.
Fans of the soap, however, commented on how simple Al's security was considering how water-tight he is about the details over his relationship and affair.
Taking to Twitter to comment, one said: "That's a strong password Al!"
"I love how she just happened to work out the password like that," someone else tweeted.
A third wrote: "What's the point of having passwords if they're so easy to crack? Ridiculous."
"With a password like that Priya should clean out his bank account," a fan joked.
Meanwhile, one added: "What a c**p password that is."
After successfully retrieving Al's money, Priya met with Debbie in the Woolpack and she said: "It's access all areas…email, browser history, bank accounts – we're all over it."
DON'T MISS…
EastEnders spoilers: Billy Mitchell thrown a 'curveball' [INTERVIEW]
Chris Packham leaves Winterwatch viewers distracted by appearance [VIDEO]
The Masked Singer: Harlequin 'rumbled' as Sarah Ferguson [CLUES]
Debbie then discussed their next move, but Priya had it all planned out.
"I've sussed out how to hurt him with maximum impact," she whispered.
Viewers will have to tune into tomorrow night's episode to find out what is next for the ladies who are determined to get revenge.
But it seems it might have something to do with Debbie and Priya trapping Al into another engagement.
Al already asked Priya to marry him, but this time, Debbie is going to get down on one knee, and when the businessman succumbs to her offer, Priya pounces out of the dark shadows.
Al will be left speechless when he realises the two women he has been cheating on and sleeping with are standing in front of him demanding answers.
Will he be able to squirm his way out of this situation?
Emmerdale airs weekdays at 7pm on ITV.
Source: Read Full Article