Emmerdale fans 'predict' Chas Dingle gets killed off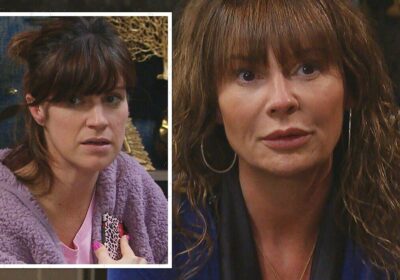 Emmerdale: Cathy and Arthur chat in the cafe
We use your sign-up to provide content in ways you've consented to and to improve our understanding of you. This may include adverts from us and 3rd parties based on our understanding. You can unsubscribe at any time. More info
Chas Dingle (played by Lucy Pargeter) encouraged Kerry Wyatt (Laura Norton) to leave Emmerdale to grieve over Al Chapman (Michael Wildman) on Friday's instalment of Emmerdale. Chas had multiple chances to confess she was the woman having an affair with Al behind Kerry's back but she played ignorant. Fans were disgusted by Chas' behaviour, with some suggesting writers should "kill her off because there's no redemption from this".
During the episode, Kerry was struggling to come to terms with the fact her partner Al had cheated on her with another woman.
She confided in Chas while she started drowning her sorrows in the Woolpack.
Chas urged Kerry to come to the back of the pub for a talk about Al and his affair.
She told Chas she was left in £20,000 worth of debt after finding out Al had tried to buy a cottage for his mystery lover.
Chas started looking worried when Kerry explained "everyone's going to find out" about Al cheating on her.
"I heard she was married and that's why he couldn't come clean, it's just gutless and heartless and really not very nice," Kerry added as Chas put on her best poker face.
When Kerry asked what Chas would do in her circumstance, she replied: "I'd go, not forever, but I would grieve for everything.
"I'd let it wash over me and I would swim through it and climb out the other side stronger."
Emmerdale viewers flocked to Twitter to deplore Chas' manipulative behaviour during the instalment, with some doubting the character will ever redeem herself.
Shannon penned: "Chas isn't even thinking about Kerry, she's only concerned about making sure nobody finds out. I honestly can't stand her character and I don't think she's coming back from this #Emmerdale."
Ryan added: "Chas Dingle is the most hated character in any soap right now. There, I said it #Emmerdale."
@AWB90 said: "They've got rid of every shred of decency Chas had… They're going to have to kill her off because there's no redemption from this #Emmerdale."
Roscoe Barnes shared: "When can we finally enjoy Chas' downfall? #Emmerdale."
Pete Leo added: "Not so lucky Chas, Chloe is going to get her #Emmerdale."
Kerry's daughter Chloe Harris (Jessie Elland) has been on a mission to find out who Al cheated on her mother with.
On Friday's episode, Chloe threatened Chas and hinted she is on to her.
Chloe warned Chas: "What I need you to do is keep your ears open in there to find out who Al was sleeping with.
"Because of her, my mum's had to leave and she is going to wish it was Kerry dealing with her and not me."
Will Chloe be the person to expose Chas to the rest of the village?
Emmerdale airs on weeknights at 7.30pm on ITV.
Source: Read Full Article