Emmerdale fans fume 'give me strength' over 'pathetic' Craig Reed murder twist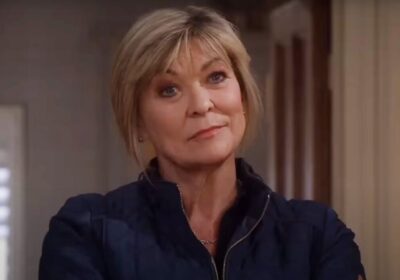 Emmerdale: Tracy kisses Caleb amid tense scenes
During Thursday's hour-long instalment of Emmerdale, the Dingles continued to share their alibis after Lydia Dingle's (played by Karen Blick) rapist Craig Reed (Ben Addis) was found dead in a field by Home Farm.
Her husband Sam Dingle (James Hooton) admitted he killed Craig after beating him up and leaving him alone in a field which horrified Lydia.
However, it was later revealed in a massive plot twist that Kim Tate's (Claire King) white horse delivered the fatal blow to Craig.
In a flashback, the businesswoman was riding in the field when she came across a bludgeoned Craig who was begging her to call for an ambulance.
Kim refused to help him, knowing he raped Lydia, and when he tried to pull her out of the saddle, her horse reared its front legs and kicked Craig to the ground.
READ MORE Emmerdale star makes ITV comeback four years after being sacked from soap[LATEST]
She dismounted from the horse to check if he was alive, but to her shock, he was already dead.
Cain Dingle (Jeff Hordley) soon appeared and made a pact with Kim before she set her horse free.
Baffled viewers flocked to X, formerly known as Twitter, to comment on the "bizarre" twist involving the horse.
Charlotte remarked: "Well that's #Emmerdale over and I still feel confused as to who/what killed Craig. Was it Sam? (causing injuries to him) Or was it Kim by accident? (Her horse kicked him because he scared the horse) It's a really bizarre ending and I'm still none the wiser." (sic)
Don't miss…
Emmerdale couple ripped apart after 'steamy affair' with unlikely villagers[UPDATE]
Emmerdale exit as beloved character rocked by health scare[SPOILER]
Downton Abbey's unexpected connection to Emmerdale and Corrie uncovered[LATEST]
Advert-free experience without interruptions.
Rocket-fast speedy loading pages.
Exclusive & Unlimited access to all our content.
Another fan questioned: "Who had Kim's Tate's Horse on their Bingo card? #Emmerdale."
A third wrote: "Kim's horse killed the man, then Cain encourages her to cover it up… Didn't know what to expect but it certainly wasn't this #Emmerdale.
"But it was nice to see the two who hate each other team up again – and for the second time since exposing Caleb's revenge plot!" (sic)
Lynn remarked: "Anyone know the name of the horse? He needs his own series #Emmerdale."
Another fan added: "That was absolutely pathetic!!!! What was the point in this week's episode?"
@TVJuice247 commented: "All this for him to be murdered by a f**king horse!!! Give me strength honestly #Emmerdale."
Will Kim or Cain end up telling the rest of the Dingles her horse was responsible for Craig's death, or will Sam hand himself over to the police, believing it was all his fault?
Emmerdale airs on weeknights at 7.30pm on ITV and ITVX.
Source: Read Full Article