EastEnders star Milly Zero's major new role after Dotty exit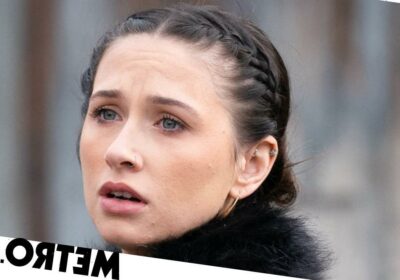 We last saw Dotty Cotton (Milly Zero) on EastEnders in December as the feisty and troublesome character rode out of Walford in the traditional black cab exclaiming, 'To hell with Walford!'
Iconic.
Now Milly Zero has revealed her next acting job following her departure from Albert Square will be quite the contrast from her previous role, as she'll be appearing in William Shakespeare's A Midsummer Night's Dream this summer.
Milly takes on the role of Hermia – a strong character who rejects male authority figures in the play as she decides to defy her father and pursue true love.
'Hermia is a wonderfully fiesty, defiant and exciting character and I feel very lucky to get the chance to take her on!' Milly said in a statement issued by the Gatehouse Theatre in Stafford, where the production will run from June 23 to July 9.
'I have missed being on stage SO much these last few years, so I am excited to return with a new challenge – my first Shakespeare play. Hope to see some of you there,' she added. 'I can't wait to get on stage at The Gatehouse, with such a wonderful cast and team.'
She echoed this on her Instagram, where several of her former co-stars confirmed they'll be booking seats.
'I will be there with BELLS ON!! This is amazing news. So proud. Well done my darling xxx' said Charlie Brooks, who played scheming Janine Butcher in the show. 
https://www.instagram.com/p/CpXQEAEtp0Y/
While Clair Norris, known to EastEnders viewers as Dotty Cotton's best mate Bernie Taylor said, 'Go on Mills – can't wait to see it 👏' '
Danny Dyer, Balvinder Sopal, Danielle Harold and Shiv Jalota were also quick to wish Milly well in her new venture. 
Milly left EastEnders before Christmas, having announced her departure a month before that on her Instagram.
'After three and a half years, I have decided my journey with the icon that is Dotty Cotton has come to an end,' she said. 'I can't tell you how life changing and incredible my time at EastEnders has been, and how much I am going to miss it.'
She also revealed her character would go out 'with a bang,' and that proved to be the case.
In the aftermath of the death of Dot Cotton (June Brown), Dotty was hoping that Dot's house would be left to her in her will and was looking forward to getting her hands on the cash after selling it. When she discovered that Dot had instead left the house to Sonia Fowler (Natalie Cassidy) she lashed out, and attempted to set the place on fire. 
She was prevented from doing this by Rocky (Brian Conley), but realised there wasn't anything left for her in Walford and left the Square.
Milly said on her departure, 'I am ready for new challenges now,' and as she looks forward to taking on the role of Hermia she's certainly made a confident start.
If you've got a soap or TV story, video or pictures get in touch by emailing us [email protected] – we'd love to hear from you.
Join the community by leaving a comment below and stay updated on all things soaps on our homepage.
Source: Read Full Article