EastEnders' Stacey Slater and Martin Fowler 'will get close'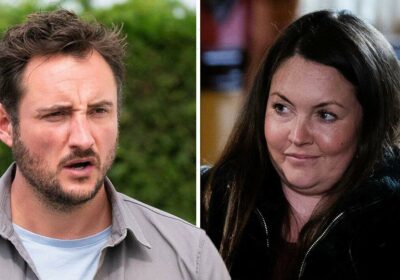 EastEnders: Stacey tells Lily she is pregnant
We use your sign-up to provide content in ways you've consented to and to improve our understanding of you. This may include adverts from us and 3rd parties based on our understanding. You can unsubscribe at any time. More info
EastEnders' Stacey Slater (played by Lacey Turner) and Martin Fowler (James Bye) haven't always had the smoothest of co-parenting relationships. Their friendship became particularly strained when the market trader married and subsequently divorced Stacey's close friend Ruby Allen (Louisa Lytton). However, the former couple have grown closer in recent months and Lily Slater's (Lillia Turner) pregnancy has brought them together once again.
Martin didn't handle Lily's pregnancy well initially and couldn't understand Stacey's desire to let her daughter make her own choice about her baby's future.
But, the concerned father quickly realised he needed to be there for Lily regardless of her decision.
In recent scenes, Stacey and Martin put on a united front when Jack Branning (Scott Maslen) found out his son Ricky Jr (Frankie Day) was going to become a dad.
Speaking at the Radio Times Covers Party, Martin star James Bye addressed his character's relationship with Stacey.
Read more: EastEnders exit as popular star set to leave after three years
"The great thing [executive producer] Chris [Clenshaw] does is he hints at stuff without giving too much away. For me as an actor, knowing some of the stuff coming in…," he teased.
"There are some storylines with Stacey. Martin and Stacey get quite close.
"I won't tease in what way, romantically or not, but they've got a nice storyline coming up.
"Obviously, we know the baby's coming…," he told RadioTimes.com.
The actor went on to praised "phenomenal" EastEnders star Lillia.
He admitted Martin "didn't deal with [the pregnancy] very well" but ultimately wants to "support his family".
EastEnders spoilers confirm Martin will take a short trip away from Walford.
The market trader tells Stacey he's been offered a few weeks' well-paid work in Turkey.
DON'T MISS
EastEnders return for troubled charcter in Lily Slater pregnancy twist [SPOILER]
EastEnders' Ian Beale star hints he's ruled out soap return [INSIGHT]
EastEnders' Whitney Dean and Zack set for heartbreaking baby storyline [INSIGHT]
Martin is worried about leaving Lily when his step-daughter needs him more than ever.
Meanwhile, Lily's biological father Ryan Malloy (Neil McDermott) will return to Walford.
It's been seven years since he was seen on the square but Lily's pregnancy and Whitney Dean's (Shona McGarty) heartbreaking baby news will see him return.
On returning to EastEnders, Neil McDermott said: "When I heard what the story was I was really pleased that the stars aligned and I was able to revisit Ryan and set foot back on the Square.
"It was so lovely to see so many old friends and to work with Shona and Lacey again, as well as to meet and work with Ryan's daughter, played beautifully by Lillia."
Chris Clenshaw, Executive producer, added: "It's wonderful to welcome Neil back to the role of Ryan Malloy.
"Although we haven't seen Ryan for some years, his character is still intertwined in the history of two of the show's major characters, Stacey and Whitney.
"We couldn't be more thrilled to have him back for a short while as he's thrust into the heart of the drama."
EastEnders airs on BBC One from Monday to Thursday at 7.30pm.
Source: Read Full Article