EastEnders' 'humiliated' Freddie Slater confronts childhood demons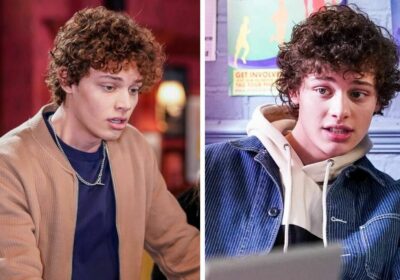 EastEnders boss discusses Vicky Michelle's entrance on soap
EastEnders welcomed Stacey Slater's (played by Lacey Turner) second cousin Freddie Slater (Bobby Brazier) earlier this year when he left mum Little Mo (Kacey Ainsworth) to reconnect with the rest of his family. While he always has the best intentions, Freddie isn't exactly the smartest person in Walford as he regularly comes up with odd schemes to help his loved ones. This time around, he'll be focusing on his own love life but, as predicted, it doesn't exactly go to plan.
WARNING: This article contains spoilers from EastEnders.
Ladies' man Freddie finds that he has double booked himself with two dates for the same night.
He starts to panic about whether or not he'll be able to pull it off without either of the women noticing but Stacey convinces him to try.
The rest of the family aren't quite as confident in the youngster but are ready and willing to give him moral support.
At the Queen Vic, Stacey, Jean Slater (Gillian Wright) and Harvey (Ross Boatman) arrive to watch Freddie as he attempts to make both dates work.
Freddie is clearly stressed out by the whole plan as he goes from one side of the pub with one date, to the other in a few minute intervals.
Things then go from bad to worse when he gets mixed up with his dates, forgetting who he is sitting with.
As Stacey, Jean and Harvey watch it unfold, they cannot help but cringe at the mess Freddie has got himself in.
When the night predictably ends in disaster, Jean questions Freddie's intelligence, leaving him upset and hurt.
Jean didn't realise Freddie would be so sensitive about it and is wracked with guilt when she finds out why.
When he was younger, his teacher Mr Hawthorne humiliated him at school in front of his friends and has felt embarrassed about his intellect ever since.
Freddie is reluctant to do anything about it but after speaking to Bobby (Clay Milner Russell), he decides to get closure.
So he goes down to his old school with Bobby, Jean and Harvey following close behind.
Don't miss…
Beyond Paradise stars praise 'gracious' Kris Marshall in sweet tribute [CAST]
Amazon takes aim at Apple's iPad with tablets slashed to under £50 [DEAL]
EastEnders family torn apart as Denise Fox has Ravi sent to prison [SPOILER]
Freddie exposes Mr Hawthorne, stating how he was a bully to him as a child.
He feels proud he was able to stand up for himself and his friends and family are equally as delighted to see Freddie get his mojo back.
How this is going to affect Freddie in the future though, remains to be seen but he is bound to feel a lot more confident as a result.
As of late, he has been putting his attention into helping the rest of the Slater family.
Stacey is worried sick about money issues and was almost arrested for taking hundreds of pounds on a cleaning job.
Freddie did the only thing he could think of to earn quick cash was to sell pictures of his feet online and thankfully, he started raking it in.
With more bills to pay and Lily Slater (Lilia Turner) pregnant, Freddie's feet fetish fans may be needed more often in the coming months.
EastEnders continues four nights a week on BBC One and BBC iPlayer.
Source: Read Full Article