EastEnders boss confirms that Mick may not be dead but could be Christmas murder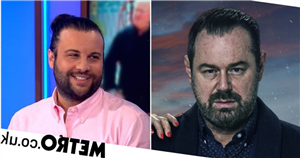 To view this video please enable JavaScript, and consider upgrading to a webbrowser thatsupports HTML5video
Despite the fact Mick Carter (Danny Dyer) is missing in EastEnders after being swept out to sea, show boss Chris Clenshaw has confirmed that the beloved character may not actually be dead after all.
While there haven't been any official signs that Mick lost his life over Christmas, the Walford residents (well, and us) have all assumed he met a watery end given his lack of swimming skills, the time he was out there – not to mention it being December and freezing cold.
So, is Mick dead, or not?
For producer Chris Clenshaw, he knows Danny Dyer's time on the BBC One soap has ended for now, but is also aware Mick's exit has offered him the chance to return in the future if he ever wanted to.
'It's a soap, anything can happen!', he said during an appearance on Loose Women today (February 24).
'There's an unwritten rule – there wasn't a body so there's every chance, will Mick rock back up in Walford in a few years covered in seaweed? Will he be the dead body at Christmas?!'.
The festive reference comes after Monday's edition of EastEnders, which featured a flash-forward sequence from Christmas Day of this year that saw Sharon (Letitia Dean), Suki (Balvinder Sopal), Denise (Diane Parish), Linda (Kellie Bright), Kathy (Gillian Taylforth) and Stacey (Lacey Turner) all standing over a dead body.
It has sparked a lot of questions and, while the producer is understandably not giving away details such as who dies and who kills them, he has confirmed a number of big stories to play out between now and the big festive reveal.
'Linda's world has been thrown upside down by seeing a photo of Shirley with Dean, but she's forced to focus on who her new business partner will be or face losing her home', Chris teased.
'Both Sharon and Nish are hoping to get the keys to the castle, but her knight in shining armour may not be who you think.
'Suki's struggling in her marriage with Nish and is desperately trying to convince herself that she doesn't have feelings for Eve. As the year progresses, Suki will uncover truths, have her relationships tested but ultimately her biggest secret could push her to the extreme.
'Kathy's planning to tie the knot with Rocky but we know with Rocky he has a past so just what will catch up with him', he added.
'Not only has Stacey been dealing with the rising cost of living, but also struggling to keep her pregnant daughter out of harm's way. This year Stacey finds herself doing something she's never done before in an effort to protect her family and unborn grandchild.
'Denise's marriage to Jack is crumbling and local-villain Ravi has had his eye on her for weeks now – but how long can she resist temptation? Expect explosive action when Jack discovers what's been going on.
To finish, Chris said: 'Just as quickly as Sharon and Keanu reunited, she discovered that he and Sam have history too, leaving Sharon newly single. However, as we know, Sharon's wearing a wedding dress at Christmas, so watch out for many twists, turns, and plenty of heartbreak along the way.'
Source: Read Full Article