'Disappointed' James Martin sparks backlash with wrong pronunciation of Yorkshire town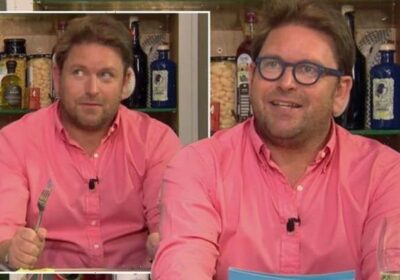 James Martin says oldest fish and chip shop is in Yeadon
We use your sign-up to provide content in ways you've consented to and to improve our understanding of you. This may include adverts from us and 3rd parties based on our understanding. You can unsubscribe at any time. More info
James Martin, 49, was back on viewers' screens this weekend with a new instalment of James Martin Saturday Morning on ITV. However, despite creating delicious-looking dishes for fans to re-create, he made a huge blunder and ended up upsetting Yorkshire viewers by pronouncing the oldest fish and chip shop town wrong.
Joined by local pub landlord Lenny Carr-Roberts, fans were shown how to create the perfect fish and chips.
Starting with the chips, Lenny added them into the blancher and jokingly remarked to James: "Not too many, have to watch your waistline, James."
James then asked: "Explain to us about this fish and chips then, the key to a good batter that's what everybody wants to know."
Lenny explained: "Like I said, I've been learning about batter for the last two years from a fantastic guy called Fred Chapel from Westbourne.
READ MORE: GMB's Laura Tobin red-faced over wardrobe malfunction
"I thought I knew as a chef and owner of several pubs, I knew about batter, and I knew about fish, but I knew nothing whatsoever!" he explained.
A little while later, as Lenny started to fry the fish, James said: "I'll tell you what, this is fish and chips to a different level.
"It's quite interesting, not just 10,500 fish and chip shops you see, the oldest fish and chip shop in the world, do you know where that is?" he asked Lenny.
Lenny went to answer, "Is it in…", with James interrupting: "It's not in Lancashire."
"Is it in East London?" Lenny asked as James said: "No, it's not in East London."
James finally revealed the answer: "It's in Yeadon, near Leeds."
A surprised Lenny replied: "Is it really!?"
James continued: "It is believed that fish and chips have been served on the premises continually since 1865."
Shocked, Lenny exclaimed: "Wow!" as James continued to read out facts about fish and chips.
Some viewers admitted to being taken back by James's "error" and mispronunciation as Yorkshire is his hometown.
DONT MISS…
GB News' Nana Akua defends Piers Morgan over Meghan comments [LATEST]
Andrew Neil delays return to GB News amid 'rift' with channel bosses [VIDEO]
Kate Garraway distracts GMB viewers 'Is she trying to out do Susanna?' [WATCH]
Viewers were outraged after James had pronounced the town wrong and took to Twitter to express their frustration.
One user wrote: "Hi James, Yeadon is pronounced 'yee-don' not 'yed-on' – home of the original Harry Ramsdens, great fish and chip section!"
Another added: "@jamesmartin, the oldest fish & chip shop is YEADON Leeds, not Yedon, as a Yorkshire man, I am disappointed with your pronunciation of this village as you will know the airport is YEADON!"
A third commented: "Oldest chippy is pronounced 'Yeedon' not 'Yeahdon', it's in Yorkshire up the road from Ilkley."
"It's 'Yeedon' no 'Yedon' call yourself a Yorkshire lad," a fourth added alongside a laughing emoji.
"I thought you were from Yorkshire @sat_jamesmarton, it's Yee-don," another user jibed.
Feeling frustrated with James, one more used pleaded: "Please pronounce Yeadon correctly, we thought you were a Yorkshire man through and through?"
A final user said: "Great show as always but did James really just pronounce Yeadon near Leeds as Yeddon?" (sic)
Watch James Martin Saturday Morning every Saturday on ITV at 9:30am.
Source: Read Full Article