Death in Paradise original cast: Why did Gary Carr leave Death in Paradise?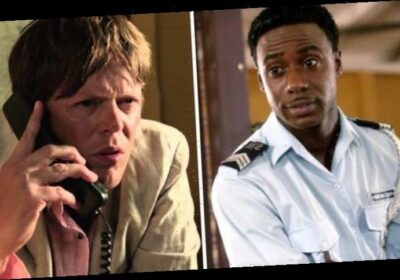 Lorraine: Ben Miller discusses Death in Paradise
When you subscribe we will use the information you provide to send you these newsletters. Sometimes they'll include recommendations for other related newsletters or services we offer. Our Privacy Notice explains more about how we use your data, and your rights. You can unsubscribe at any time.
Death in Paradise celebrated its 10th anniversary with DI Neville Parker (played by Ralf Little) in charge and joined throughout by some ex-Honoré Police force workers. Comparing series 10 to the very first season, the cast looks almost entirely different with just Commissioner Selwyn Patterson (Don Warrington) and Cathy Bordey (Élizabeth Bourgine) still on the BBC show. So what happened to Fidel Best and why did the actor who portrays him decide to leave?
WARNING: This article contains spoilers from Death in Paradise.
Fidel Best (Gary Carr) was deemed as the most organised of the original team, often being trusted to collect fingerprints and witness statements.

He was also one of the most eager to impress, willing to do anything he could to please DI Richard Poole (Ben Miller).

This made Fidel one of the most valuable members of the force as he always enthusiastic, trying to do his best throughout all of the investigations.

Sadly, Fidel was only in the first three seasons of Death in Paradise.
In season two, fans saw Fidel studying to become a sergeant after he was recommended to do so by Poole.

He grew extremely nervous at the thought of taking his exams and briefly considered not doing them at all in fear of failing.

But after being pushed to take the test, Fidel does and passes with flying colours.

This was bad news in the long run though for Death in Paradise fans as it was revealed in the first episode of season four that Fidel left to take up a new job as a sergeant in St Lucia.
Why did Gary Carr leave Death in Paradise?
Actor Gary Carr who played Fidel Best left Death in Paradise in 2014.

He has mostly kept quiet, doing very few interviews during his career.

So Carr hasn't spoken out about why he chose to leave Death in Paradise and Fidel behind.

But one of his former co-stars did give viewers a hint as to what the reason could have been.
DON'T MISS…
Death in Paradise: Who shot at Florence Cassell? [EXPLAINER]
Death in Paradise cast: Who did Bridgerton star Kathryn Drysdale play? [CAST]
Death in Paradise's Ralf Little has no plans to leave series [SPOILER]
Kris Marshall joined the cast of the comedy-drama in season three following the murder of DI Poole.

So Carr worked alongside Marshall for one series before he left for good.

Discussing Carr's exit from Death in Paradise, Marshall told Digital Spy: "I understand where he is coming from.

"I was just the same when I was younger. He wants to move on."

Marshall's comments insinuate Carr simply wanted to try new roles rather than just stay in one series too long.
Prior to Death in Paradise, Carr had been in Silent Witness, Bluestone 42 and Downton Abbey as musician Jack Ross.

After leaving the BBC show, Carr featured in the series The Good Fight, as well as films Bolden and 21 Bridges.

For two years he starred in The Duece and in 2020, Carr played Kieran in the mini-series Trigonometry.

Death in Paradise is available to watch on BBC iPlayer.

Source: Read Full Article