Dawn French shares 'disappointing' encounter with the Queen Mother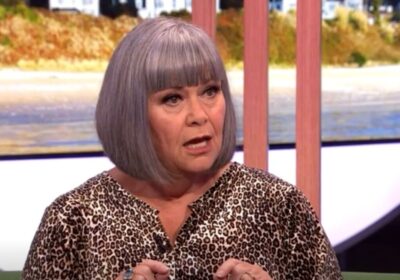 Dawn French's 'disappointing' encounter with the Queen Mother
Dawn French joined hosts Alex Jones and Jermaine Jenas on this week's The One Show where she opened up about a royal encounter that she had when she was a child.
Dawn reminisced on when the Queen Mother came to visit her and her family back in 1961.
The actress and comedian revealed: "Yes, we were very lucky that my Dad was in the RAF and the Queen mother came to visit us."
Dawn's father had invited the royal after she had toured the Leconfield RAF base in Yorkshire that year.
She told the hosts: "I think I was four."
READ MORE Dawn French admits she's ignored warnings not to go on tour by her surgeon
At the same time, a black and white photograph of Dawn, her parents, and her older brother Gary welcoming the Queen Mother at their front door was shown on screen.
However, Dawn didn't quite realise the significance of the visit at the time.
She remembered: "I was a bit disappointed because she turned up without unicorns, without a crown. I just thought, 'What's going on?'"
Dawn also went on to explain why she thought that the royal was "a witch".
Don't miss…
Dawn French returns to Vicar of Dibley role for close friend's 'living funeral'[LATEST]
Lenny Henry shared real reason behind Dawn French split after 25 'happy' years[COMMENT]
Dawn French's 'painful years' after recreating puddle scene left her in agony[INSIGHT]
We use your sign-up to provide content in ways you've consented to and to improve our understanding of you. This may include adverts from us and 3rd parties based on our understanding. You can unsubscribe at any time. More info
She continued: "Honest to god, she smiled and she had brown teeth. And I thought 'It is a witch? It is a witch coming into our house?'"
But the bestselling author reflected that "You're four, that's what it is."
Because of her childlike reaction, Dawn remembered that she "Honestly did not want her to come in."
She concluded: "I refused to speak to her. I mean, I was a complete pillock, when it came to her and I just clung to my dad's leg and I wouldn't let go."
Alex was shocked by the admission and responded by saying "oh my goodness," to which Dawn called herself an "idiot."
Dawn had previously discussed the memorable meeting with royalty in one of her comedy shows.
At the time she revealed that the day had left her with "nightmares" and, in her own words, was "the most terrifying half an hour of my life".
She also considered how many times she had to move homes during her childhood as she and her family were routinely uprooted as a result of her father's job.
The One Show airs weeknights at 7pm on BBC One.
Source: Read Full Article