Dave Bautista Won't Ever Play Bane, James Gunn Looking for 'Younger Actors' to Revamp DC Universe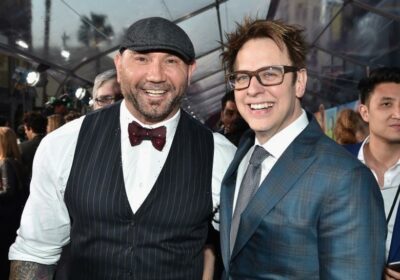 Dave Bautista won't be playing "Batman" villain Bane any time soon.
The "Guardians of the Galaxy" star confirmed he's not in the running to take on the character most recently played by Tom Hardy in "The Dark Knight Rises." Bautista, who in 2021 courted Warner Bros. for the role, cited new DC head James Gunn's vision for younger stars to take on the superhero characters as part of the reason he is rescinding his Bane proposal.
"You need to start to plan for the next 15 years, and I just don't think you can do that with me," the "Glass Onion" actor told Insider. "And I understand that. And, also, I have to say that I appreciate that because I don't want to play a character that I can't bring justice to it. I don't think at this point in my career that I can bring justice to Bane anymore. I just don't know if I could handle the physical part, and I don't think I would have the longevity to plan ahead for films. So, I just don't know if I'd be that guy."
Bautista has collaborated with Gunn on multiple Marvel installments and spoken out on Gunn's short-lived firing from Disney amid resurfaced tweets. Now, Bautista is similarly defending Gunn's precise plan for ushering in a new DCU era.
"I have had conversations with James about that but I think the direction he's leaning in, completely rebooting that whole universe, he's starting from scratch and starting younger and fresher and I think you need to do that," Bautista said. "I think for the DC Universe to be revived, you need to start from scratch, and I think you need to start with younger actors."
Gunn announced a "young Superman" film in the works sans actor Henry Cavill and scrapped an upcoming "Wonder Woman 3" with Patty Jenkins writing and directing. Dwayne Johnson's Black Adam has also been given the ax after the standalone film's debut.
"James Gunn and I connected, and Black Adam will not be in their first chapter of storytelling," Johnson announced on social media. "However, DC and Seven Bucks have agreed to continue exploring the valuable ways Black Adam can be utilized in future DC multiverse chapters."
Gunn tweeted to the DCU fan backlash, "One of the things Peter [Safran] & I were aware of when we took the job as heads of DC Studios was a certain minority of people online that could be, well, uproarious & unkind, to say the least. Our choices for the DCU are based upon what we believe is best for the story & best for the DC characters who have been around for nearly 85 years. Perhaps these choices are great, perhaps not, but they are made with sincere hearts & integrity & always with the story in mind."
Gunn added, "We were aware there would be a period of turbulence when we took this gig, & we knew we would sometimes have to make difficult & not-so-obvious choices, especially in the wake of the fractious nature of what came before us."
Source: Read Full Article