Darkest Hour – Churchill's grandson on WW2 film's historical accuracy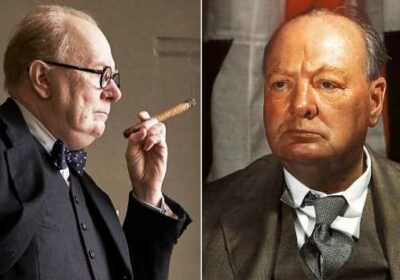 The Darkest Hour: Gary Oldman on his favourite scene
We use your sign-up to provide content in ways you've consented to and to improve our understanding of you. This may include adverts from us and 3rd parties based on our understanding. You can unsubscribe at any time. More info
It's been five years since Darkest Hour hit UK cinemas, retelling Winston Churchill's early days as Prime Minister during World War II. Gary Oldman famously went on to win the Golden Globe, BAFTA, SAG and Oscar award for Best Actor in his portrayal of the titanic figure, but just how historically accurate is the movie? Express.co.uk asked his grandson Lord Soames, who loved the film that is airing on BBC One this evening. He was just 16 when his grandfather died and walked behind his coffin at the 1965 state funeral. Having many fond memories, the 75-year-old former Tory MP knows an accurate portrayal of Churchill when he sees one.
Speaking with Express.co.uk around Darkest Hour's release, Lord Soames said: "I thought it was excellent, and not only because of the brilliance of the acting and direction. You look at Gary Oldman, before and after – what they achieved with creating my grandfather's persona is exceptional. There have been brilliant Churchill actors before like Robert Hardy and there have been some absolute snorkers – but I think Gary Oldman has absolutely nailed it. They each have their own way of doing it, but his portrayal of my grandfather is very vivid. One of the very best.
"Y'know I wasn't old enough [to know Churchill then]. I didn't live through the war, so I don't know what he was like then. But certainly he and Kristen Scott Thomas who played my grandmother Clementine were brilliant. I knew her [Clemmie] very well. If you close your eyes it is my grandma."
On Darkest Hour's historicity, Lord Soames said: "It's pretty accurate [when compared to that] remarkable book by George Lukas called Five Days in London, which is about the making of the government of 1940. Obviously, it takes artistic license, because it's a film, but it is true that you had Dunkirk, you had this extraordinary row within the War Cabinet between Lord Halifax, Chamberlain and my grandfather – about whether or not they should make one last ditch attempt against Mussolini and therefore Hitler. It does take great flights of fancy, like going onto the Underground and going missing and all that. But that is done to make a point."
The scene in question sees Churchill board a train to ask regular working people how they felt about the war, what action the government should take and if they were afraid. He added: "[That moment] is an allegory because the idea of my grandfather on the Underground is absolutely preposterous. He'd never been on a bus in his life, but he certainly understood what people were thinking on the bus and Underground."
Lord Soames said: "The thing about courage, is that the people who are really brave are people who are afraid and overcome it. That is real courage." And although Neville Chamberlain is often caricatured as weak and incompetent, he felt the film gave a fairer, more historic look at Churchill's predecessor.
He added: "Even Chamberlain is portrayed in not an unsympathetic way, in that he was trying to do the right thing. He couldn't bare the thought of another war and all that death and destruction. And yet there was a Prime Minister who appeared, who could do it, who could talk to people."
Source: Read Full Article