Danniella Westbrook reveals horrific hole in her head after 'nightmare' surgery in Turkey | The Sun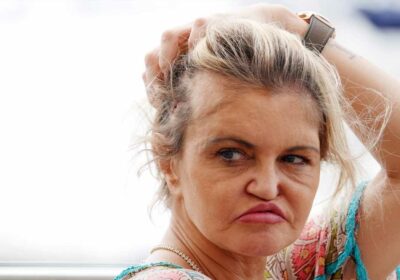 DANNIELLA Westbrook reveals that she has been left with a HOLE on the side of her head after having facial reconstruction surgery in Turkey.
The former EastEnders star had hoped to have her nose rebuilt after it collapsed after years battling a cocaine addiction.
However, the 49-year-old said that she was left with lumps of fluid under the skin, she temporarily lost her eyesight in one eye and thought she was going to 'die'.
Now she's revealed that she has been left with a one inch hole in the side of her head.
She explained to OK! magazine: "It wasn't until I was washing my hair that I realised the stitches had come undone and I had an open wound."
"I literally have a hole on the side of my head. It's about an inch long. I could actually put my finger in the hole, which was awful."
read more on Danniella westbrook
Danniella Westbrook in tears as she struggles with loss of vision
Danniella Westbrook reveals surgery hell saying 'it's been a living nightmare
She said that they put 200 threads in her nose in a bid to straighten it, but said that the procedure failed.
Danniella said that she's now going to return to Liverpool to get her nose fixed, explaining that surgeons need to rebuild the bridge in her mouth and build up the front of her nose.
They also took some fat out of her back, sides and stomach and have pumped it into her face to make it more symmetrical.
She explained that she thinks they took "too much" fatty tissue from her stomach and she's now "lost her six-pack".
Most read in Showbiz
The Demon Headmaster star who appeared in The Crown and Doctor Who dies at 86
Matt Willis admits taking six grams of coke a day at height of addiction
Hit 90s rock band announces they're breaking up after 27 years together
Huge 90s boyband confirm comeback after performing for first time in 4 years
Danniella said that her stomach is "saggy" and it looks like she's lost a substantial amount of weight, leaving her with excess skin.
The star is devastated as she planned on being in "the best shape of her life" for her 50th birthday.
As well as having swelling on her stomach, she said that she had "fluid under her eyes".
"I could barely open them. I have never been in pain like it. I felt like I couldn't breathe. I was hysterically crying every single day."
Her journey home sounded just as bad, she claimed that she lost sight in one of her eyes and felt immense pressure in her head during the flight.
A few days after she arrived in Portugal she had to be taken to hospital after her stitches popped open when she was washing her hair – leaving her with an "inch long hole" in the side of her head.
She said that the doctors in Portugal were horrified by the surgery.
The TV star called the experience "a living nightmare" and said that she "regrets it" and wants to return to England to spend time with loved ones.
Source: Read Full Article