Dancing On Ice chaos after Holly Willoughby is evacuated from rehearsals in her hair rollers | The Sun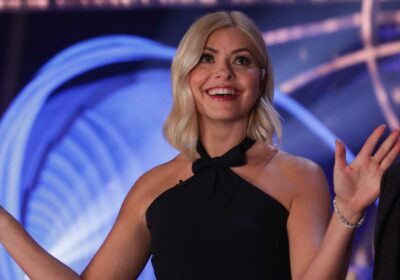 DANCING On Ice host Holly Willoughby had a hair-raising experience last week after she was evacuated from the studio with rollers still in her blonde locks.
The entire cast of the celebrity ITV show was forced to flee the building in a fire scare.
Speaking exclusively to the Sun, the show's creative director Dan Whiston explained: "Last weekend, the entire Dancing on Ice cast, production and crew had to evacuate the studio after a fire alarm went off.
"Many of the celebrities, including Holly, had to brave the cold weather outside whilst safety checks were carried out.
"The alarm sounded, and everyone sped outside into the car park. We were show mid-preparation when it happened, so quite a few of us weren't even fully dressed, and Holly still had her hair rollers in.
"Luckily it turned out to be a false alarm triggered by some curling tongs… but you could say it was a bit of a hairy situation for a while."
READ MORE ON DANCING ON ICE
Dancing on Ice star rushed to hospital after smashing their face on the ice
DOI judges accused of 'sexism and favouritism' over Michelle Heaton's exit
There's been no shortage of drama both on and off the ice this series and it's only three weeks into the live shows.
Leading the pack early on his gymnast Nile Wilson, who is putting his athleticism to good use.
While Michelle Heaton was the second celebrity to be sent home after failing to impress during last night's Musicals Week.
Dan gave us his run down of the latest routines and teased what fans can expect from future performances.
Most read in Showbiz
Zoe Ball replaced on Radio 2 after health emergency
Original Wednesday Addams Lisa Loring dies aged 64 after suffering 'stroke'
The 1975's Matty Healy sparks outrage after 'giving Nazi salute' on stage
24 actress Annie Wersching dies aged 45 after cancer battle
He said: "We pushed the creative to another level in Nile'sroutine, as we had a Chitty Chitty Bang Bang car on the ice.He literally throws himself into every challenge we set him, I think the skies the limit with Nile.
"Talking of next level, Carly Stenson is always a joy to watch ice skate but this week she was also a joy to hear, as she sang live at the start of her routine. I wouldn't be surprised if she has more secret weapons up her sleeve that could help her sail into the final.
"The Vivienne melted fans' hearts again with her sublime performance. She is so hard working and dedicated, and I truly believe her skating is strong enough for her to stay in the competition for a long time.
"Darren may be a funny man off the ice but on the ice, he takes skating seriously and worked hard to put on another fun performance this week. 
"Siva also had a good skate after training hard to improve his skating technique. We just need to bring out his inner showman a bit more."
Love Island winner Ekin-Su was a shock dance-off competitor in week two when she came under fire for wearing a saucy outfit before the watershed.
While she seemed tentative last night, but Dan believes she'll soon be oozing confidence.
He said: "Ekin-Su's confidence had been knocked after the first dance off and she was a bit wobbly on the ice this week, but she's starting to turn things around and I think she'll come back fierce and fabulous next week."
Dan continued: "We were a bit wicked to poor Patsy Palmer, who spent more hours than any other celebrity in make-up this week, as we had to paint her green.
"Patsy unfortunately took a tumble at the end of her performance and demonstrated nerves of steel when she got back up and finished her routine mid-air. We may have to rebuild her confidence this week as she was a bit shaken up after the show."
Read More on The Sun
Millions urged to check for voucher as BBC One 'switch-off' approaches
Love Island villa set for 'most explosive showdown ever' after Tom & Ellie's kiss
And reflecting on the controversial elimination, which saw the show judges come under fire from viewers over claims they undermarked Michelle, Dan said: "We were all so sad to see Michelle leave the competition, and she was devasted to leave so soon. 
"Her score was a major talking point with many viewers saying she was massively undermarked, but we need to remember because the judges watch the live studio performance, they sometimes notice things the camera feed doesn't capture."

Source: Read Full Article