Dan Walker won't host Channel 5 News after hospital dash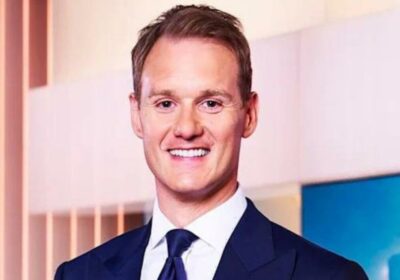 Dan Walker compliments James Martin's dish
We use your sign-up to provide content in ways you've consented to and to improve our understanding of you. This may include adverts from us and 3rd parties based on our understanding. You can unsubscribe at any time. More info
Dan Walker presents Channel 5 News weeknights alongside Claudia-Liza Vanderpujie to give the latest updates to their viewers. However, tonight Dan will be replaced by Tessa Chapman after suffering injuries to his face following an incident on his bike resulting in a dash to the hospital.
Updating his fans on the incident, Dan wrote on his Twitter: "Bit of an accident this morning. Glad to be alive after getting hit by a car on my bike.
"Face is a mess but I don't think anything is broken. Thanks to Shaun and Jamie for sorting me out and the lovely copper at the scene. This is my [sic] smiling. Thankful for our NHS."
His agent told The Times: "Walker is now in hospital recovering. It is understood the accident took place when the TV presenter was cycling from his home in Sheffield to the train station, where he was going to the Channel 5 studios in London."
Many social media users were quick to wish Dan a speedy recovery, with former BBC co-star Mike Bushell writing: "Aw Dan.
"Sorry to hear this. Glad you're in one piece and are going to be ok and in good hands. Speedy recovery."
His Channel 5 co-star Claudia-Liza Vanderpuije replied: "Oh Dan!! Oh my goodness!
"Hope you are okay!! This looks so bad so can't believe you still see the funny side. Rest up lovely and just be looked after."
Jeremy Vine wished: "Dan, so sorry to hear this. Looks really painful. Hoping for a good recovery. Sending love."
Sally Lindsay commented: "Bloody hell love! Sending healing vibes."
User Stella Campbell added: "Ouch! Hope nothing is broken and you got an apology xx #NHS."
Whilst Jordan Rivera echoed: "Sorry to see this Dan! Glad it's not any worse, what a horrible thing to happen.
"Thankful for our NHS for so many reasons, glad we have it there when we need it. #NHS." (sic)
Dan announced his departure from BBC Breakfast last year and explained: "Hello, it's Dan here. I have a little bit of news for you. In the next few weeks.
"I'm going to be leaving BBC Breakfast and moving to 5 News and to Channel 5.
"I'm really excited but this has also been a massive decision for me because I love BBC Breakfast, I love working alongside Sally [Nugent] and I love the team there.
"But Channel 5 came with big ambitions, with big plans and I don't think opportunities like this come around very often and I can't wait."
Dan replaced Sian Williams as the lead anchor for 5 News after she announced she was stepping down in April 2022.
Alongside 5 News, Dan also presents a number of other shows on Channel 5 including Digging for Treasure.
He previously admitted during an appearance on Loose Women that he still wakes up at 3am after years of doing so on BBC Breakfast.
Dan explained: "I think I'm annoying my wife and family at the minute because I find I've got so much more energy. I was cleaning the garage out at 6 o'clock in the morning.
"I never minded getting up at three because I felt I was getting a head start on everybody else so I've always got up early, I've never really slept that much. Once I get up, I just crack on."
5 News airs weekdays from 5pm on Channel 5.
Source: Read Full Article