Dan Walker hits back at Oti Mabuse as she makes dig at 'tired' appearance: 'Leave it!'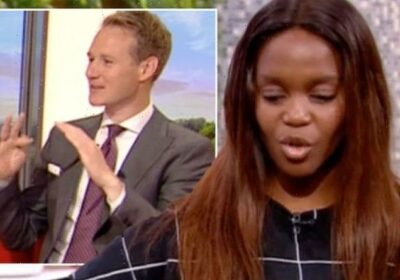 Alan Shearer hilariously jokes about treatment from the BBC
When you subscribe we will use the information you provide to send you these newsletters. Sometimes they'll include recommendations for other related newsletters or services we offer. Our Privacy Notice explains more about how we use your data, and your rights. You can unsubscribe at any time.
Dan Walker and Louise Minchin returned to the BBC Breakfast sofa on Tuesday morning and it didn't take long for both to admit they had rather late nights in order to watch Monday's Euro 2020 fixtures. Early on in the show, Dan admitted he was rather "bleary-eyed" as he and Louise confessed they'd stayed up late to watch France and Switzerland's nail-biting penalty shoot-out which didn't finish until almost 11pm. So when speaking to Morning Live hosts Oti Mabuse and Gethin Jones about their show, the Strictly dancer couldn't resist a pop at Dan's appearance.
The moment came as BBC Breakfast returned from the local headlines just past the 8:30am mark.
With Morning Live following Dan and Louise at 9:15am, the pair decided to check in with Oti and Gethin to see what they had in store.
"Morning Live follows Breakfast on BBC One this morning," Louise said. "Oti and Gethin are in the studio, morning both!"
The cameras then cut to Oti and Gethin who both greeted Louise and Dan: "Good morning!"
But without skipping a beat, Oti turned her attention to Dan, teasing him about his lack of sleep.
"Dan, I must say," she began. "I think you're looking a little bit tired.
"Did you get enough sleep after the football last night?" Oti cheekily asked.
An unimpressed Dan could be heard over the top: "Leave it, Oti. Leave it."
Oti and Gethin let out a laugh as Dan added: "It's an issue for everyone in the studio today."
Gethin then weighed in, bringing up England's Euro 2020 fixture with Germany later this evening.
"It'll be a bit better though, won't it?" Gethin said. "Kick-off's a little bit earlier for England versus Germany in the Euros tonight.
"And on that subject, we're asking if sport is all about winning or if it's the taking part that counts."
DON'T MISS:
'Be lucky to get a sandwich!' Alan Shearer dishes swipe at BBC
Alastair Campbell shutdown on Newsnight – 'What's Labour's excuse?!'
'You're just like the BBC!' GB News' Matt Hancock coverage slammed
Oti and Gethin then reeled off everything else that was coming up on Morning Live, including chats with Dominic Littlewood and Akis Petretzikis.
Dan and Louise thanked the pair for their update before the former even joked he may not even be able to face presenting tomorrow's show if England loses.
"See you both tomorrow," Louise signed off as Dan weighed in: "If it goes badly, I might not come in, Louise.
"I can't face another one," Dan said as the pair began to laugh. "I've gotten myself, over the years, gotten myself ready for these games (and it hasn't ended well)."
Louise then encouraged Dan to have a "super snooze" beforehand to get himself ready for the fixture.
Kick-off between England and Germany is scheduled for 5pm at Wembley Stadium.
The winner will progress to the quest-finals of the competition to face either Ukraine or Sweden on Saturday evening.
BBC Breakfast airs daily at 6am on BBC One.
Source: Read Full Article