'Creed III' Eyeing Franchise Title 3-Day Record Debut Of $38M-$40M – Box Office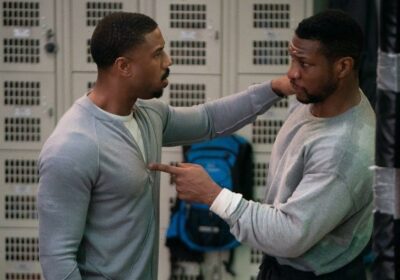 The winter box office continues to have some breadth as MGM's feature directorial debut of Michael B. Jordan, Creed III, eyes a potential franchise opening high for the Rocky spinoff about Apollo Creed's son with a $38M-$40M opening at 4,007 theaters.
Previous Creeds played during the Thanksgiving box office of 2015 and 2018, respectively opening to $29M ($42.1M 5-day) and $35.5M ($56M 5-day) off of A CinemaScores. Already, Creed III is 90% certified fresh with Rotten Tomatoes critics which is higher than Creed II's 83% fresh and a bit lower than Creed's 95% fresh. There are some special 7PM shows tonight with Thursday previews starting at 7PM. Creed III has all the premium ticket formats, i.e. Imax, PLFs, 4DX.
Related Story
Courtenay Valenti Officially Named Head of Film, Streaming and Theatrical For Amazon Studios & MGM
In part 3, an old ex con and Golden Gloves boxer friend of Adonis Creed's, Damian Anderson (Jonathan Majors in his second big film on the marquee now), comes back into his life. After Adonis trains Damian, he winds up becoming a bigger foe than he anticipated.
The threequel cost $75M before P&A and is tracking strong with Black audiences and guys, and in particular younger skewing audiences. Creed II pulled in 66% under 35 and a diverse range of 38% Caucasian, 29% African American, 22% Hispanic/Latino and 6% Asian. The last film pulled in 34% men over 25, 30% women over 25, 23% guys under 25 and 14% women under 25.
Despite Creed III's win of No. 1, two other titles decided to date on top of that: Crunchyroll's Demon Slayer: Kimetsu no Yaiba: To the Swordsmith Village, which the distributor is billing as a theatrical experience of episodes from two television seasons in 4K, and is expected to do in the $7.5M-$10M range and Lionsgate/Miramax's Guy Ritchie action movie Operation Fortune: Ruse de guerre which is expected to do in the mid single digits.
The Demon Slayer theatrical experience begins on Friday with no previews.
Meanwhile, why did Lionsgate date Operation Fortune: Ruse de guerre just two weeks ago? The Jason Statham-Hugh Grant-Aubrey Plaza-Josh Hartnett-Cary Elwes action film has already been released in several offshore markets with an overseas gross of $41.4M. Simply put the $50M production got stuck in the STX financial restructuring limbo and was locked up at the bank. The movie just got released by the bank lienholders and Lionsgate promptly got the theatrical release out there to make good on it even though it's last minute. Operation Fortune had to go now, particularly on a weekend where Creed III is pulling in all the guys because it already released abroad. The movie is booked at 2,150 theaters and is only getting a U.S. release (the pic is streaming in Canada). Critics on Rotten Tomatoes gave it 65% fresh off 23 reviews (Ritchie's Wrath of Man was 67% fresh and his 2020 pre-pandemic The Gentlemen was 75% certified fresh.
Holdovers this weekend should find Disney/Marvel Studio's third weekend of Ant-Man and the Wasp: Quantumania -40% with $19M. Pic currently stands at $170.5M stateside. Universal's second weekend of Elizabeth Banks' Cocaine Bear should ease -55% for around $10M. The movie's running total is just under $25M. Lionsgate's Jesus Revolution with a running cume of $17.1M should see another $8M this weekend, -50%.
Must Read Stories
'Creed III' Eyeing Franchise-Record 3-Day Debut Of $38M-$40M: Weekend Preview
WGAW Exec Director David Young On Medical Leave; Ellen Stutzman To Lead Contracts Talks
Endeavor "Well-Positioned" For A Potential Writers Strike, CEO Ari Emanuel Says
Amazon Preps 'Assume Nothing' Limited Series; Priyanka Chopra Jonas To EP, Possibly Star
Read More About:
Source: Read Full Article