Countryfile's Julia Bradbury says she's desperate to live off-grid saying 'I'd love to disappear into a jungle' | The Sun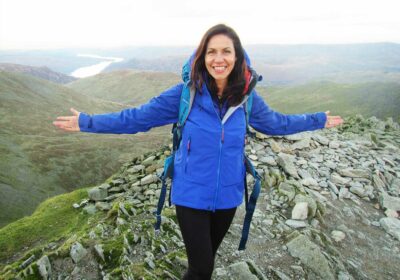 AS the darling of natural world programming, Julia Bradbury has long been an advocate of green therapy.
Since battling cancer she has immersed herself in nature every day to restore and protect her health.
Now the 52-year-old TV presenter says she has secret ambitions to take her passion for the great outdoors to another level – by living completely self-sufficiently.
Speaking exclusively to The Sun, Countryfile host Julia, who lives in London, says: "I've always spoken about the power and importance of nature and how valuable beautiful green spaces are to us on a human level.
"I'd love to live off grid. I love the idea of it [although] 'm not sure practically how that would work with my partner's work! I'd like to disappear into a jungle for three months of the year and just go and live that kind of life, call it an extended I'm A Celebrity Get Me Out of Here, only without eating the kangaroo a*** holes!"
Julia, who is in the process of writing a new self-help book called Walk Yourself Happy, which she says will detail how "we can all improve ourselves, our lives and our health using nature and walking", believes in the stress-alleviating benefits of being in green spaces, adding that "science is now proving" how Mother Nature can be "incredibly good for our health".
Read more on Julia Bradbury
Julia Bradbury set for 'deeply emotional' return to TV after cancer battle
I fear having kids in 40s raised my risk of breast cancer, says Julia Bradbury
Just like her own childhood breaks to the Derbyshire Dales, family seaside holidays with her property developer husband Gerard Cunningham and three children, son Zephyr, 11, and twin girls Zena and Xanthe, 7, are deeply therapeutic for Julia.
"On holiday, I sit for hours with my kids on the beach, talking, watching the sunset or the sunrise, watching the seagulls, listening to the waves," she says. "That's why we feel so revived when we come back from a holiday, when we've had vitamin D from the sunshine."
Julia, president of The Camping and Caravan Club, which last month published The Outjoyment Report, a study that revealed that camping and outdoor enjoyment is good for your mental health and wellbeing, adds: "It's the same story with camping. It's quality time with your children, when you are in the moment with them, they can communicate with you in a different way, when they're not vying for your attention with something else you're doing or some bit of tech."
Julia's children are as captivated by nature as their famous mum.
Most read in News TV
Amy Nuttall demands divorce from Andrew Buchan after cheating scandal
Inside Neighbours' return including explosive storyline featuring the ENTIRE cast
Popular BBC drama taken off air in huge schedule shake up – causing fan fury
Alison Hammond sparks rumours she's split from 'fiance' with cryptic comment
"At the weekend, we were at home in Rutland with my mum and dad. We went to a garden centre and they were going absolutely bonkers, running around buying 99p-each flowers," she says.
"It was like looking at kids in a sweetie shop except it wasn't sweeties.  We ended up leaving with 12 beautiful little shrubs that they're going to grow and nurture. Nature is an important part of their lives."
Just like many families around the country this weekend, Julia and her children will enjoy Mother's Day festivities.
But the East Midlands-born star points out that since her highly publicised battle with cancer, every day feels worthy of celebration.
"I'm grateful for every single day and I do look at life differently, certainly," says Julia, who had a 6cm tumour removed from her left breast during a life-saving mastectomy operation after diagnosis in October 2021.
"Obviously when something like a cancer diagnosis comes your way, your whole world becomes about that, how you are going to handle it and the impact on your family, friends and loved ones. You don't think too far into the future [but] about getting through things, day by day.
"I decided very early on that I was going to try and maintain a very positive mindset, and that I would approach it a bit like a TV project, which was to learn everything.
"I've really been working very hard on trying to find calm and peace in my life every single day. The brain is geared towards a negative state. We have to tilt into a positive state and I have found that practising gratitude by journaling or meditation, really gets me to think about the good things in life and approach difficulties in a more positive way."
Read More on The Sun
Woman shares hack to get last bit of ketchup out of the bottle – but be warned
Netflix fans say they 'can't sleep' after watching gory horror Alive
She adds: "We will always be beset with issues, problems and stress at work. We can't live a trouble-free life, but what's very important is how we learn to manage those stresses."[credit] The Motorhome and
Caravan Show 2023 is at NEC Birmingham from 17-22 October. For tickets go to mcshow.co.uk.
Source: Read Full Article