Corrie's Stephen Reid's reign of terror continues after Sarah Platt attack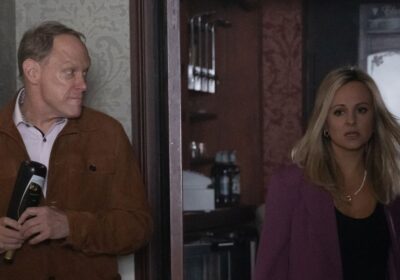 Coronation Street: Tim is attacked by Stephen
Coronation Street's Stephen Reid (played by Todd Boyce) attempted to flee the country on Wednesday evening but was stopped in his tracks when he realised he didn't have his passport.
In scenes which are set to air tonight, Stephen is confronted with the two he loves the most, Sarah Platt (Tina O'Brien) and Jenny Connor (Sally Ann Matthews) and leaves them fighting for their lives.
He has managed to get rid of Tim Metcalfe (Joe Duttine), defraud Underworld and get away to the airport, but soon made his way back to Weatherfield to confront Jenny about his missing passport.
Jenny makes her way to the pub when she hears a disturbance and is quickly joined by Sarah who saw someone upstairs and wanted to check everything was alright.
Sarah breaks the news to Jenny about the murders Stephen has committed and both come to realise they aren't alone in the Rovers.
READ MORE Win a pair of tickets to The Coronation Street Experience
With the walls closing in on him, a desperate Stephen bashes Sarah over the head with a bottle in an attempt to silence her.
Jenny and Stephen then go back and forth like cat and mouse, with Jenny desperate for answers about the crimes he's committed and why.
Is Stephen really capable of killing a member of his own family as he also threatens Jenny with a broken bottle, holding her hostage?
Will either woman make it out of his grasp alive as Stephen makes his bid for freedom? Or will DS Swain get her man?
Don't miss…
Coronation Street couple 'torn apart' after unexpected cheating twist[INSIGHT]
Coronation Street fans 'work out' Tim Metcalfe's fate after cliffhanger ending[WATCH]
Strictly Come Dancing's Ellie Leach opens up on possible Corrie return[LATEST]
We use your sign-up to provide content in ways you've consented to and to improve our understanding of you. This may include adverts from us and 3rd parties based on our understanding. You can unsubscribe at any time. More info
Stephen actor Todd Boyce recently spoke about his exit and claimed he felt the storyline concluded at the right time for him.
Speaking to Express.co.uk and other press, Todd explained: "I think the audience will be pleased with how it shakes out.
"They have put up with a lot of frustrations, people have pointed out that there have been many murderers in history who are undetected for decades.
"But in the world of soap, you can only put up with that injustice for so long, so I think it is perfectly timed.
"Ian and I at one point were talking about staying a little longer but I can't be more pleased with the duration and the means, I think it is perfect and I am thrilled with it."
Coronation Street airs Monday, Wednesday and Friday from 8pm on ITV1 and ITVX.
Source: Read Full Article