Coronation Street's Hope Stape teases 'awful' twist on ITV soap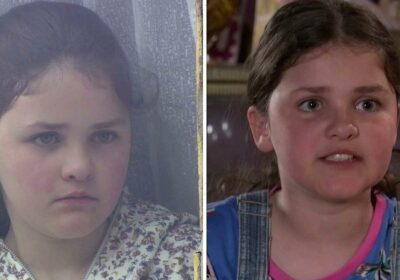 Coronation Street: Hope Stape hides Joseph Brown in the attic
We use your sign-up to provide content in ways you've consented to and to improve our understanding of you. This may include adverts from us and 3rd parties based on our understanding. You can unsubscribe at any time. More info
Coronation Street actress Isabella Flanagan has warned viewers that yet more unpredictable behaviour is in store for her character Hope Stape. The young star has also reflected on her explosive, yet short time on the ITV soap.
Ever since the character was born three months premature after her mum Fiz Brown (played by Jennie McAlpine) was part of the tram crash in 2010, Hope has lived through a lot in her short life.
According to eleven-year-old acting prodigy Isabella, there is far more around the corner too.
She explained to Inside Soap: "I feel as if Hope might quieten down a bit. But then they'll make her do something super bad.
"Everyone will think she's doing something nicer, and then Boom! – she'll do something awful."
Read More: Prince Harry memoir torn apart by Steph McGovern
Isabella joined Weatherfield in 2017 and has since deliberately caused a fire leading to a miscarriage and planned on running away with her half-sister.
Her eventful time has inspired the ambitious actress to work with more experienced actors in the future.
She added: "Mollie Gallagher, who plays Nina, is really cool and I'd like Hope to hang around the older girls a bit more.
"The people on the show are like my second family, I never want to leave."
Isabella continued: "I was only six when I joined, and I never expected any of this. But in a good way, because it means more work for me and it's so much fun."
"I would never choose a good character over playing Hope. I love doing bad things."
Currently on Coronation Street, Hope is handling the news of her serial killer father John Stape returning to haunt her.
This week on the ITV soap, a book written about her father is set to cause great strain on the youngster and her mum.
Coronation Street spoilers show Fiz has tried to seek a deal to remove Hope's name from the new release.
As part of the new book there's a question and answer session with the journalist behind it and Tyrone Dobbs (Alan Hansell) decides to visit.
However, he cannot contain his rage with the decision to go ahead with exposing Hope's father, so he goes on stage and smacks the unsuspecting author.
Fiz and Tyrone try desperately to keep Hope protected from seeing any of the publications' promotion.
However their attempts to keep Hope out of the limelight from her dad end up in potentially more trauma, like Isabella predicted.
In new images of the soap, Isabella's character comes face to face with her serial killer dad when a cutout of him is hidden in the shed by Tyrone.
The previews also show how Hope is standing in front of the troubling image, which will perhaps lead to the twist Isabella was referring to.
Coronation Street airs on Mondays, Wednesdays and Fridays at 8pm on ITV and ITV Hub
Source: Read Full Article