Coronation Street's Alya Nazir hospitalised as Zeedan brings trouble back to the cobbles?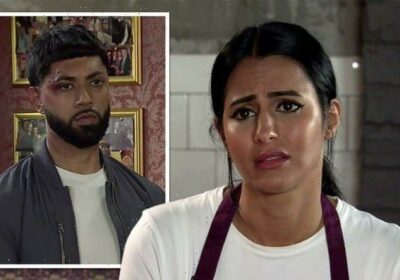 Coronation Street: Daisy and Alya have confrontation
We use your sign-up to provide content in ways you've consented to and to improve our understanding of you. This may include adverts from us and 3rd parties based on our understanding. You can unsubscribe at any time. More info
ITV soap fans will soon see the return of Zeedan Nazir (played by Qasim Akhtar) on Coronation Street. He'll make a dramatic comeback to Weatherfield, having been away since May 2018. However, according to official soap spoilers, Zeedan will bring with him some trouble to the cobbles. Could he end up putting his sister Alya Nazir (Said Khan) in danger as a result?
Viewers could soon see trouble for Alya as her brother returns to Weatherfield and is followed there by some thugs.
According to official spoilers, the Nazir family will have a lot to deal with when Zeedan arrives back in town.
In upcoming scenes on the soap, burying her doubts, Alya accepts Zeedan's loan of £50k.
However, when Zeedan launches an attack on Ryan Connor (Ryan Prescott) for cheating on Alya, she's furious.
Alya swiftly points out Zeedan was nowhere to be seen during Geoff Metcalfe's (Ian Bartholomew) reign of terror and tells her brother to shove his money.
Later on Yasmeen Nazir (Shelley King) plans a family meal, but outside Speed Daal two thugs grab Zeedan.
Elaine Jones (Paula Wilcox) and Cathy Matthews (Melanie Hill) are horrified when they discover Zeedan slumped in the ginnel, battered and bleeding.
Later at the hospital, Alya and Simon Barlow (Alex Bain) quiz Zeedan about his attackers, but he insists he has no idea who they were.
Having witnessed their earlier row, Simon wonders if Ryan could be responsible for the attack.
Zeedan gives a statement to PC Craig Tinker (Colson Smith) and suggests Ryan might have been his attacker.
However, later on, a furious Ryan tears a strip off Zeedan for trying to frame him when he was actually working all afternoon.
It's not long before Zeedan comes clean to Yasmeen and Alya, explaining he's in trouble.
Yasmeen asserts she doesn't want Zeedan's money and is ashamed of his behaviour.
Zeedan apologises to Ryan for wrongly accusing him, revealing Alya still thinks a lot of him.
Later, Yasmeen lays down the law to Zeedan. She says she'll accept his loan, but he must remain under her roof where she can keep an eye on him.
Could Zeedan end up putting his family at risk by returning to Weatherfield?
The thugs that are after him could attempt to hurt his family members in a bid to get to Zeedan.
The criminals could use Zeedan's sister Alya as bait to draw him out and get what they want from him.
Could they end up attacking and hospitalising Alya? Zeedan would likely be devastated if he put his sister in danger.
Until now, Zeedan has not been seen on screen since May 2018 when he announced he wanted to divorce Rana Habeeb (Bhavna Limbachia).
Zeedan had just found out his marriage was a sham because Rana had been having an affair with Kate Connor (Faye Brookes).
Despite Rana dying a year later, Zeedan failed to return to Weatherfield.
Now he's back in town, will Zeedan end up causing more problems from the family members he previously left behind?
Coronation Street airs Monday, Wednesday and Friday at 7.30pm and 8.30pm on ITV.
Source: Read Full Article